Your home's bathroom is a busy center of activity, from mornings getting ready for work and school, to bathing the kids before bedtime.
The bathroom is also an area that gets dirty quickly, with splashing water, soap and toothpaste, and a place where germs collect. 
As a result, there are a lot of items that need to be stored, from cleaning supplies to soaps, shampoos and towels. It's convenient to have them within handy access. 
Getting the bathroom organized makes morning routines go smoothly and helps keep the area clean and hygienic. So quality storage is essential regardless of the size of your bathroom.
Here are bathroom storage ideas for every type of bathroom.
Basic Bathroom Storage Ideas
There are some basic storage ideas for any bathroom, like a medicine chest or storage unit hung over the sink. Featuring a mirror that opens, it can hold smaller items like medicine, toiletries and cosmetics, and toothbrushes and toothpaste.
If you haven't yet designed your bathroom, consider a shower cubby built into the wall of the shower or over the tub. The shelving can be used to hold soaps and shampoos, children's toys, and depending on placement, could even hold towels.
Or, create a skinny alcove at the end of the tub. It can have shelves built into it to hold towels and other items.  
Keep cosmetics and other small items on trays. If you like to read in the bathroom, add a magazine rack to an open corner. And, if there's space, don't forget a stylish hamper for dirty linens. 
Bathroom Wall and Storage Cabinet Ideas
If you're just designing your bathroom, consider built-in cabinets, set right into the walls. Open shelves can hold items like towels while shelving behind doors is ideal for cleaning supplies.
If your bathroom is already designed, you can place a shelving unit in a larger room, or hang higher shelves in unused corners such as over a bathtub. You can also repurpose old furniture. An item like a bedroom armoire can be refinished to suit a bathroom, and can store a lot of items in the shelves and drawers.
If you have open shelves, make storage look stylish by using baskets and canisters to store your items. You can make it visually unique by alternating different kinds of baskets, such as several styles of wicker, or alternate wicker with wire. Baskets can hold towels, toilet paper, and cleaning supplies, and canisters can hold items such as powder puffs, cotton swabs and bars of soap.
Storage Ideas For a Small Bathroom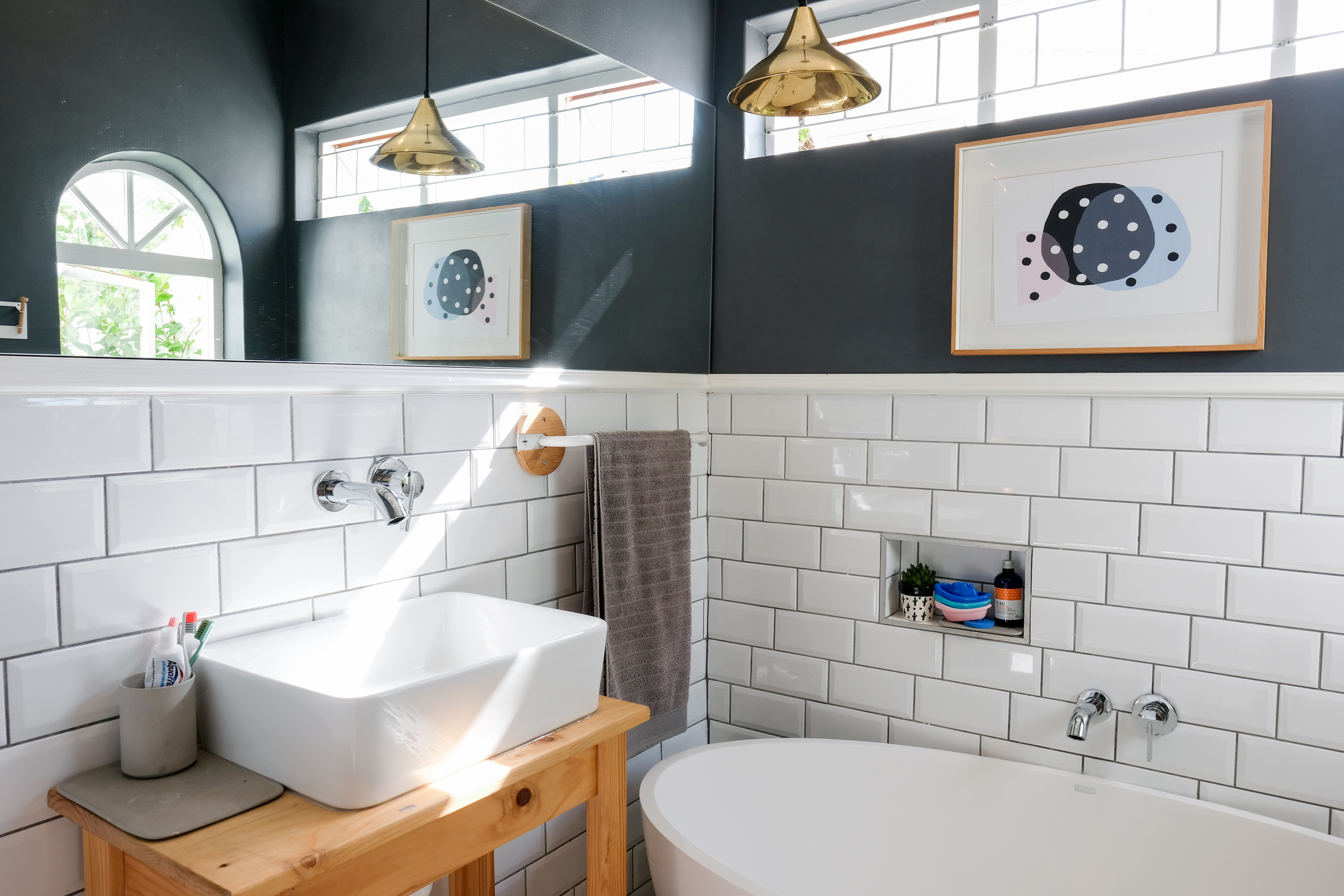 A small bathroom adds some complexity to finding room for everything you need to store. But you have options!
For instance, there are products that hang from the toilet tank, such as toilet paper roll holders, or magazine racks for reading material.
Add a unique touch and extra counter space by bringing in a bar stool or a bar cart. Both are easy to move if necessary. The top of each can hold cosmetics or toiletries. The bar stool could be accessorized with a basket on the floor under it holding toilet paper; the bar cart will have one or two shelves that could hold toilet paper or towels or both.
Storage Ideas Over the Toilet For a Small Bathroom 
The wall space over a toilet is unused and wasted space, which is valuable in a small bathroom.
Install floating shelves over the toilet, where you can set larger items like towels, use baskets to hold smaller items like soap, and even place décor touches like flowers. You can usually get up to three floating shelves in that space and still be able to reach the highest one.
There are also shelving units specially designed to fit over a toilet. Then add a wire basket with extra toilet paper and set it right on the toilet tank for easy access.
Under Sink Storage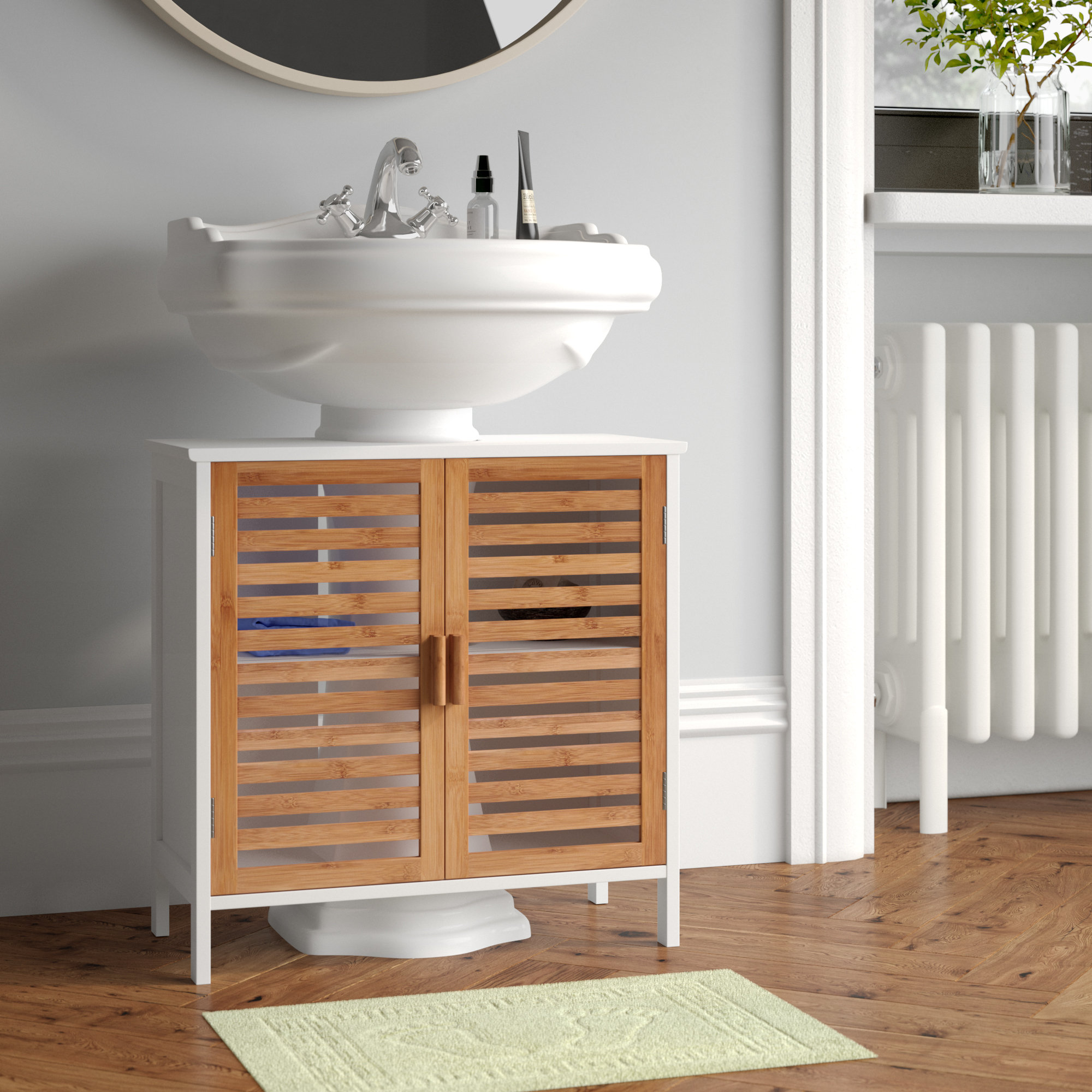 If you have an open sink design and don't want to spend money replacing it, a fabric skirt can be designed to drape around the sink. It will introduce a splash of color or design, it won't cost much, and it hides what's stored behind it.
You can also opt for a wall-to-wall floating shelf, which can be mounted under the sink and hold baskets of linens, toilet paper or cosmetics. 
If you have a closed cabinet under your sink, you still want to keep it organized. Several plastic storage containers can organize items by category: one for cleaning supplies, one for beauty products, one for first aid products. Add decorative stickers to identify the contents and anyone can find what they need, fast. Or, a turntable can hold cleaning supplies within easy reach.
Towel Storage
A good bathroom has towels on hand, easy to access when you get out of the shower. 
We've already discussed several options for towel storage, such as built-in cabinets, alcoves or other shelving units. You can also roll towels into a large basket and have it on the floor near the tub or shower.
In a small bathroom, another option for towel storage is a ladder, leaned against the wall to drape towels over. Another good choice is hooks on the back of the door.
Final Thoughts
The bathroom is one area of the room that you want to keep organized and clean.
With a little creativity and our helpful ideas, you can find storage ideas for any size and style of bathroom.