The kitchen occupies certain importance in one's home. So much so, in fact, that homeowners, designers, and architects spend considerable time in its layout and construction. That includes providing a high-quality kitchen benchtop where the host can prepare meals, entertain guests, and more.
As a specialist supplier of marble kitchen benchtops in Sydney, our expert team at Euro Marble can assist you in creating beautiful unique marble pieces, complementing any home décor.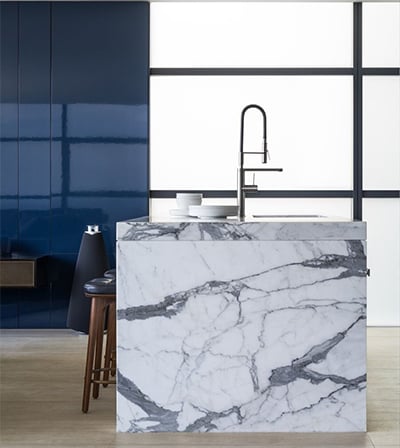 Why Choose a Marble Benchtop
Marble is a product of intense heat and pressure that provides unmatched elegance, class, and function. We are happy to walk you through reasons to opt for our marble benchtops for your kitchen makeover.
Unique Beauty
Marble is essentially metamorphosed sandstone or limestone. Subjected to intense heat and pressure, these rocks recrystallise into various mosaics of carbonate minerals. Naturally infused impurities such as silica, dolomite, or clay result in unique patterns and colours ranging from solid white to solid black, from rose to yellow and green. No two slabs are the same, so if you want your kitchen to be beautiful while looking like no one else's, marble benchtops are the way to go.
Good Strength
The heat and pressure that give marble its beauty also lend it strength. It is stronger and less porous than limestone, making it the material of choice of artists in creating some of the most enduring pieces of art and architecture.
Low Maintenance
Well-sealed marble is easy to maintain. In general, clean damp cloth with some gentle PH Neutral soap is sufficient for cleaning. Please refer to our maintenance section below for further information. Read more about the costs of natural stone for benchtops.
Types of Natural Stone Marble for Benchtops
With marble's unique patterns and colours, the stone's location or origin often dictates variety. Following are some of our recommendations when it comes to beauty and quality.
Calacatta Marble
Calacatta is an Italian marble that may well be the most famous variety of natural stone in the world with samples gracing churches, museums, and castles. Its brilliant white background and splashes of grey and gold veins make it a perennial favourite marble benchtop.
Carrara Marble
Quarried from the same Italian region, Carrara is the more affordable version of Calacatta as Carrara is more common and readily available. With its greyish white colour, Carrara is more forgiving to stains and the kitchen's daily wear and tear.
Crema Marfil Marble
Coming from Spanish quarries, Crema Marfil is a highly desirable marble for its warm, pale colour. Architects and designers highly prize its textured beige with veins of soft yellow, white, and cinnamon that evokes the elegance of palatial architecture. It is often paired with dark accents to create dramatic settings.
Arrabescato Vagli Marble
Arrabescato Vagli is another Italian marble perfect for benchtops. Although not quite well known, its white colour splashed with striking greyish green veins adds depth and sophistication to modern kitchens for less-than-premium pricing.
Caring for Marble Benchtops
Because marble is a natural material, it will eventually patinate over time. Maintaining it, however, requires little effort provided that it is finished with a high-quality sealer. It penetrates the pores and sits just below the surface to prevent staining liquids to seep in.
While finished marble is still susceptible to etchings from acids like citrus juices or vinegar, these etchings can be removed by kitchen paste cleaners on scrubbing pads. It also helps if the benchtop is honed rather than polished.
Honed marble has a softer satin finish while polished reflect light and are shinier. Kitchen experts usually prefer honed benchtops for both practical and aesthetic reasons.
Depending on the frequency of use, resealing is only usually required every two to five years.
The best thing about marble benchtops is that these can always be sanded down and polished again. Other materials do not have that luxury when damaged.
How to Clean Marble Benchtops
Once the marble has been sealed, the benchtop is easy to clean. A clean damp cloth with some gentle PH neutral soap is sufficient—acidic and strong cleaners can adversely affect the sealing or etch the marble itself.
Staining spills, such as wine and juices, should be wiped as soon as possible. Water on the surface should be wiped as well to prevent discolouration, and oily spills should be soaked up with clean paper towels. Finish these up by covering them with talcum powder or flour to draw any remaining liquid out.
Why Choose Euro Marble
For three decades, our highly skilled specialist team has been providing the best natural stone benchtops to our commercial and residential clients across Australia and overseas. This gives us unparalleled expertise and experience, enabling us to provide the highest standards of workmanship, service, and advice to all our clients at a competitive price. Our growth has been built on referrals and repeat business, and we're proud of the wonderful feedback we consistently receive from our clients.
To request a quote or to request more information about our marble benchtops, please contact us today.

Marble is nature's gift to capture...