Travertine and Limestone
Travertine and limestone are excellent materials to incorporate into your home or building design. These natural stones have been utilised for centuries as foundations, walls, floors, and accents and ornaments because of their beauty and durability. New York's Empire State Building and Washington DC's Pentagon are examples of limestone-constructed buildings.
What Is Limestone?
Limestone mostly forms in warm, shallow marine waters from the accumulation of calcium carbonate present in coral, shell, or algae. The crystallisation of the mineral from water also creates limestone. When the mineral evaporates from ocean or lake water and then crystallises, travertine is formed.
This natural process produces a sedimentary rock of beige, olive, and taupe colours that lend it its rustic beauty. Its high-mineral content provides the durability that has seen its centuries-old usage in a variety of functions.
What Is Limestone Suitable For?
Limestone and travertine are versatile natural stone materials that can fit distinct designs in the following areas:
Entryways and Foyers
With their warm and earthy tones, limestone and travertine provide a natural welcoming feel for both guests and homeowners alike.
Floors, Stairs, Walls
Although not as elegant looking as marble and granite, limestone and travertine are equally impressive as any natural stone. They can withstand foot traffic quite well, so you can be sure that they will last for years, even decades. If sealed properly, they are virtually waterproof and thus can be used as bathroom and shower floors. Temperature-wise, they stay cool for a long time, perfect for hot Australian summers. Like most natural stones, they are also excellent heat conductors, great for subsurface heating systems in winter.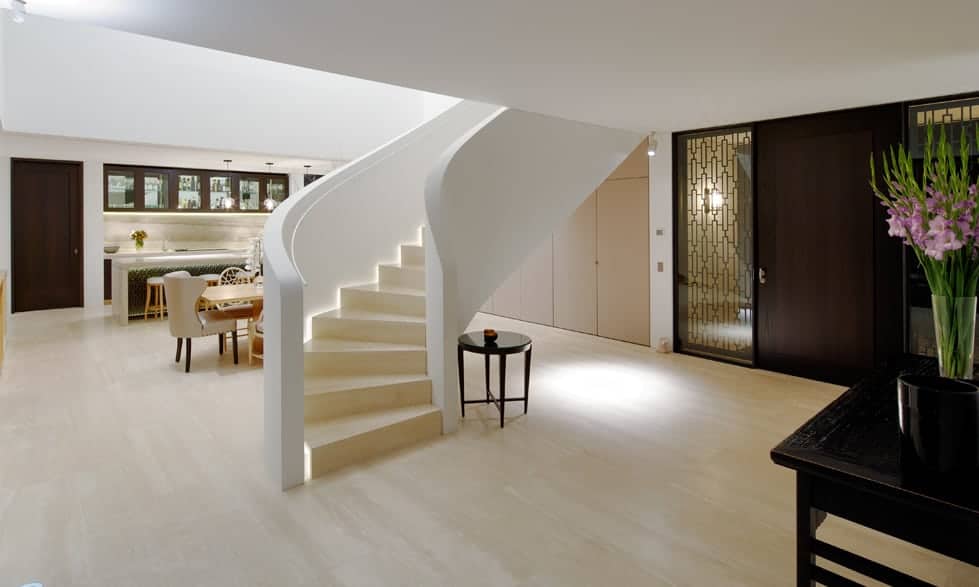 Kitchen Hoods, Backsplashes, Benchtops
Limestone and travertine's neutral and earthy colours fit really well in the kitchen, complementing various colour schemes. Properly sealing them results in easy cleaning and maintenance.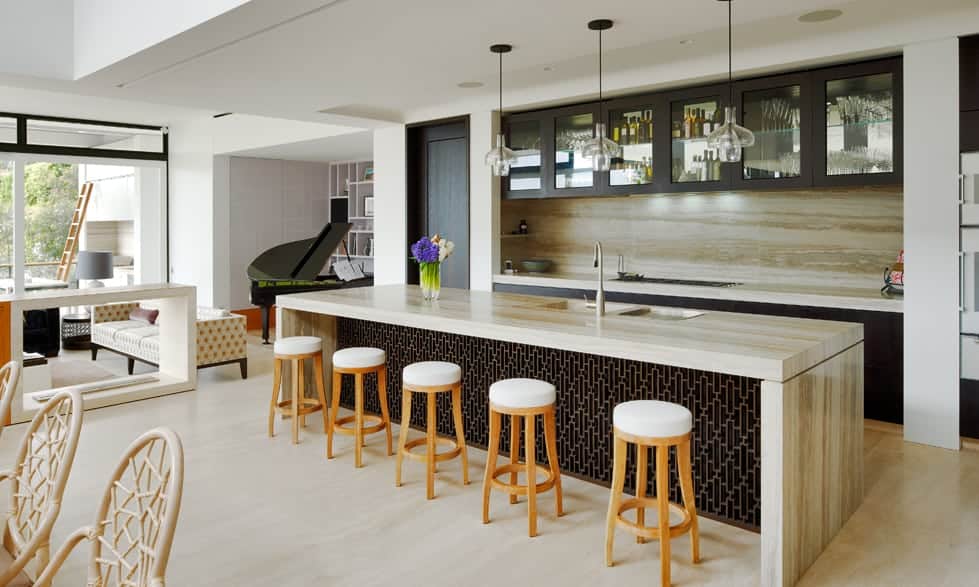 Walkways, Courtyards, Pool Decks
Limestone travertine is a soft natural stone compared to granite or marble. However, with a good seal, travertine is also a good outdoor stone with its natural beauty and feel. Its non-slip elements provide for a safe pool deck. You can also avoid scorched bare feet as the stone—especially light-coloured ones—stays cool under the sun. You won't have to worry about wear and tear, too, as travertine holds really well under foot traffic and weather cycles.
Benefits of Using Travertine
Following are further benefits that limestone and travertine users enjoy:
Natural Beauty at Low Cost
Compared to marble, granite, and the like, limestone and travertine add the same natural beauty to buildings, homes, and outdoor installations at a lower cost. They are more available than the former natural stones too so they fetch more affordable prices. And for those who desire the natural beauty of warm, neutral colour tones without being overly grand or ostentatious, limestone and travertine cannot be more perfect—their sophistication lie in their simplicity.
Durability
Limestone and travertine's beauty is not fragile. They age really well while withstanding everyday bumps of foot traffic and last years under rain, heat, or snow. Extend its lifetime with regular maintenance and care.
Natural stone maintenance is easy to maintain provided they are finished with high-quality sealers—especially outdoor installations—to prevent water and staining liquids from seeping in. Resealing is only usually required every two to five years.
Dirt and sand etch the stone, so regularly clean with a dry, clean mop or vacuum cleaner. For benchtops and the like, a clean damp cloth with some gentle soap is sufficient. Please do not use acidic and strong cleaners—they can destroy the sealing and/or etch the stone itself.
Water and other liquids that stain should be wiped off immediately and the surface washed with soap if required. Finish with talcum powder or flour.
Outdoor installations should be flushed with clean water. If algae or moss exists, mild bleach can be used. Ensure that walkways, steps, etc., are free from debris, so sweep and wash them with water regularly.
Smart Investment
Travertine and limestone come with added maintenance costs like other natural stones yet they remain a smart investment. The natural, warm beauty it lends to both outdoor and indoor spaces, its versatility, and durability definitely add great value to properties they are installed in. Even years-old limestone and travertine installations that have seen little maintenance remain attractive because of what enthusiasts call the weathering effect. You will possess, in the end, a property with sought-after features, fetching a very high value in the market.
Our Colour Range
Please browse through our range of available travertine and limestone above
Why Choose Euro Marble

Euro Marble's expert specialist team collectively bring 200 years' experience. Our unparalleled expertise and experience assure you of the highest standards of workmanship and service. You'd also be happy to know that we have been consistently receiving wonderful feedback from helping clients create homes using natural stone.
We can cut, grind, polish, and install any high-quality limestone slab in Sydney homes and establishments in any required configuration for any feature described above. Turn your ideas into masterpieces today simply by calling us or visiting us.