Natural Stone Flooring
Choosing stone-flooring often comes down to two linchpins: beauty and durability, two things that only natural stone floors can guarantee.
As the name suggests, natural stone comes from the earth itself and requires little processing and manufacturing unlike synthetic materials like porcelain, ceramic or marble floor tiles. These have been quarried and then used for centuries as foundations, walls, floors, and even accents and ornaments. Natural stone includes materials such as marble, limestone, sandstone, and granite, which differ in composition, texture, and colour.
Types of Natural Stone and Marble Flooring at Euro Marble
Euro Marble can source both marble and limestone for your flooring needs. We are happy to walk you through these types and the factors involved to assist you to handpick the material perfect for you.
Limestone
Time and the accumulation of calcium carbonate from coral, shell, algae, or crystallisation of the mineral from water create limestone. The process produces beige, olive, or taupe colours that give spaces a natural look. Limestone's high-mineral content provides durability, assuring users of a long-lasting natural flooring especially when properly sealed and maintained. It is relatively soft, so indoor usage is usually recommended.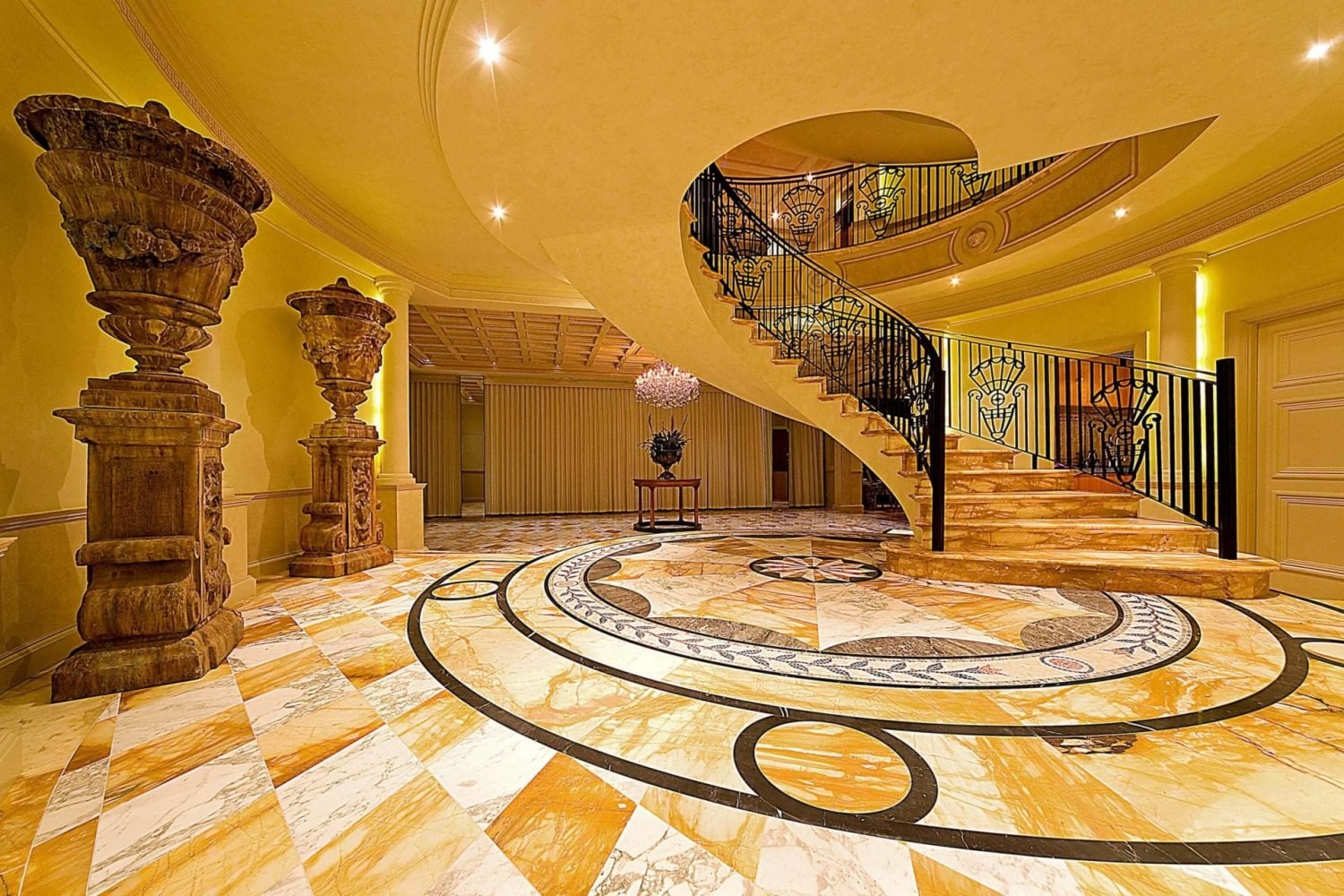 Marble
When the earth's intense heat and pressure is applied to limestone (or sandstone), the rock recrystallises and metamorphoses into marble. The natural addition of impurities such as silica, dolomite, or clay develops marble's famed unique veins, adding impressive colours and hues. Marble's centuries-old utilisation in grand buildings such as palaces and museums has equated marble with the luxurious style of the elegant. It is relatively strong as well allowing for both indoor and outdoor usage. This is vastly improved with proper sealing and maintenance.
Benefits of Natural Stone and Marble Flooring
Following are further benefits and add-on values that no other flooring material can provide:
As products of the earth, limestone and marble tiles evoke a sense of connection to the environment, emitting a special kind of awe and space that echo the mountain ranges they are sourced from.
Today's technology and responsible practices have dramatically reduced the environmental impact of quarrying natural stone, producing natural stone tiles that are actually more non-polluting, eco-friendly, and allergen-free than synthetic building materials.
If you combine all of natural stone's benefits and even add in its treatment, installment, and maintenance costs, marble and limestone add so much value to a home or commercial building that it actually amounts to a very smart investment. Have a look at our marble slab products.
Care and Maintenance
Your natural stone's durability and overall lifetime vastly improve with proper maintenance and care. Following are considerations and helpful tips from industry experts to keep in mind:
Sealing
Your limestone or marble floors need to be properly sealed to protect them from everyday spills and dirt. High-quality sealers prevent staining liquids to seep in without changing the stone's look and feel. A note of caution though: some sealers react with some cleaning chemicals and/or the stone surface itself so always consult with your stone provider.
Depending on the sealer quality and foot traffic on the floor area, resealing is only usually required every two to five years.
Some Precautions
Your marble or limestone floors tend to be slippery when wet. Avoid potential hazards by:
Using non-slip runners outside doors help dry and clean shoes;
Installing brightly coloured signs to remind people to exercise caution in wet areas; and
Removing standing water, snow, or ice immediately.
Regular Cleaning Recommendations and Procedures
Indoor floors should be frequently cleaned and dusted using a dry and clean mop or vacuum cleaner. Abrasive dirt such as sand and grit etch or scratch natural stone, so non-slip runners or mats should be installed outside entrances.
A clean damp cloth or mop with some gentle soap is normally sufficient for regular cleaning. You can also periodically wash surfaces with clean water and neutral (pH 7) cleaners. Using soap-free commercial cleaners can minimise the streaks and film soap leaves behind. Avoid acidic and strong cleaners as they can adversely affect the sealing or etch the marble itself. Rinse the surface thoroughly with clean water (be sure to change the rinsing water frequently). Finish with a soft cloth and air-dry.
Outdoor installations should be flushed with clean water. Mild bleach can be used if algae or moss exists. Regular cleaning should be performed as often as necessary.
Include a regular inspection of your surfaces as well to spot for possible staining, defects, or deterioration.
Call your stone professional if the stain is too difficult to remove.
Why Choose Euro Marble
For three decades and counting, Euro Marble are your local natural stone experts who have been providing Australia and the world with a highly skilled specialist team that can create any superior-quality bespoke design. Our unparalleled expertise and experience enable us to provide the highest standards of workmanship, service, and advice to all our clients at competitive pricing, catering for a wide range of budgets. For more information or to request a quote about our natural stone products, please contact or visit us today.