What Is Natural Limestone?
Natural limestone blocks are sedimentary stones that are created through the compression of small particles of rock and stone. Limestone is a superb choice for building materials due to the ease in which it can be carved and shaped, its imperviousness and durability.
It is commonly used as a stone cladding as it is a strong, durable product that has a unique aesthetic appeal that differs greatly from other stones. Limestone is well suited for this application However one must take into consideration the weathering characteristics of the stone before integrating it into the next project as well as the weight implications it will have on the building's exterior as weight is the primary area of concern. You are essentially adhering a heavy stone onto a vertical surface.
Natural limestone is one of the most difficult materials to work with (all rock for that matter).
Where To Buy Limestone Blocks
The price of limestone blocks will differ greatly depending on the grade selected and the country of origin. Natural limestone cost can range between $300/m2 and $500/m2 + GST
Another option is to purchase reconstituted limestone block. These can be a good solution for the garden, where you might want to build a retaining wall. If you are looking to use natural stone as your wall cladding, we do not recommend using reconstituted limestone. As you can not get the same finish quality, or desired shaped.
We do not recommend going down to your local Bunnings, as the quality of their natural stone is low, and the product range is generally only suited to DIY (rather than construction professionals).
We ship stone products from Sydney to all around Australia, so if you would like to buy online, or over the phone, we can arrange freight to most places.
Characteristics
Beveled: Limestone pavers can be customised to have beveled edges.
Sizes: Stone blocks range from small to large in size, we customise everything according to our customers needs.
Weight: Limestone is a heavy material, so for flooring paver size, they can range from a weight of 60-70kg per m2 assuming the use of 20mm thick stone
Building With Limestone Blocks
Cutting: When you want to cut natural limestone, there are a few different options. The first, is cutting by hand (not recommended for DIY). For a more precise split, use a cutting machine.
Sealing: The end use of your limestone will determine what sealing needs to take place. If it's only used in the garden, then you should be fine. But if you are trying to create a moisture membrane / wall cladding, we recommend sealing natural limestone.
Mortaring: The mortar mix should contain an adequate mix of water, sand and cement
Rendering: For a smoother finish, you can render over wall blocks with a cement mix. Although you will loose the often desired stone cladding look.
Landscaping: Bricks can be used to build retainer walls and as paving around the garden – along with other projects around the house.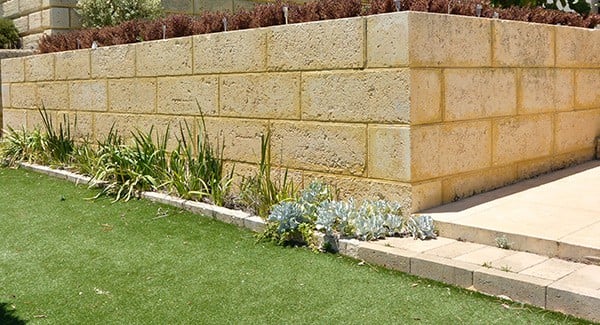 How to clean limestone?
The most common cleaning method for limestone is to use a PH neutral detergent which will be the least abrasive for the stone. Any products with citric properties or containing acids such as bleach should be heavily avoided s these will leave the stone with a white or dull hazing commonly referred to as "etching".