The bathroom is one room of the house you're most likely to frequent every day no matter what and the sink (or sinks) in that bathroom is an essential component. Along with a toilet, shower, bathtub and at least minimal cabinetry, the sink and adjoining vanity can make for a cluttered feel.
If you're a modern minimalist and looking to infuse minimalist design aesthetics into your bathroom, a floating bathroom vanity is one of the growing design trends you should be looking at.
What is a floating vanity unit?
A bathroom vanity unit refers to the style of sink that is incorporated within or placed below or on top of a vanity. For understandable reasons, the cabinetry part of the vanity needs to be of significant size to store all the bathroom products you need every day.
A floating vanity is one that is attached, sink and all, directly to the wall without any support structure underneath or base connecting it to the floor or other parts of the bathroom. Some floating vanity units sacrifice storage space but there are plenty of versions that include cupboards, drawers and even counter space.
For modern minimalists, a floating vanity in a bathroom is an appealing choice as it maximises sleek wall space, reduces clutter and makes for a bold visual statement.
If you're thinking of installing a floating bathroom vanity, here are some ideas and design styles you can consider.
Floating Bathroom Vanity Ideas
Wood Vanity and White Walls
Many minimalist interior designs incorporate a focus on white or off-white colour palettes. If you love that clean, light look of an almost entirely white bathroom, a floating vanity will slot right in. You can, however, add a pop of colour by incorporating natural wood in your floating vanity.
This will act as a 'feature installation' in an otherwise all-white room. 
Grey and Wood Colour Scheme
Love the thought of a rich, blonde wooden colour added to your bathroom vanity but not sure about all white everywhere else? Gunmetal grey cabinets and cupboards make for an alternate matching colour scheme to wood without sacrificing the minimalist design style.
Bold Black and Wooden Counters
One last pairing with wood that still manages to hit the mark for the modern minimalist is a black set of floating vanity cabinets topped with a thick dark wooden counter.
Particularly good for someone needing a lot of cabinet or cupboard space, a black colour scheme can blend nicely into a dark or patterned bathroom wall choice without making the room feel too busy. 
Dark and Light Contrasts
If you love white and bright rooms with a focus on minimalism but still appreciate the boldness of a darker anchoring of colour there are a few ways in which you can achieve an effective dark and light contrast.
One that we love is to use a sleek grey floating bathroom vanity complete with black drawer or cupboard handles and topped with a white sink with matching black tapware.
Elegant yet striking, this is one design any minimalist will love!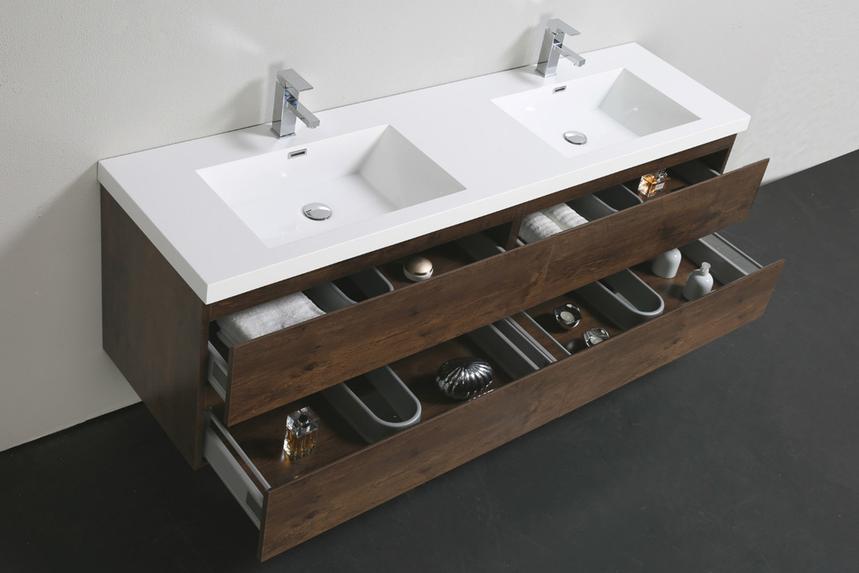 Rectangles and Waterfalls
Often fans of minimalist styles also love sharp lines and angles, with square cabinets and sinks. Few designs look as modern and visually pleasing as a square or rectangular floating vanity – rectangular sink included!
While traditionally sinks are curved and rounded, a sharp edged sink will transform your bathroom. Pair that with a waterfall style tap (maybe even one concealed behind the bottom of your square mirror) and you'll have a super modern and breathtaking floating vanity. 
Curling Shelf
Not all floating vanity units need to include an incorporated cupboard and drawers. A curling shelf–made out of rich wood or a natural stone like marble–starts out of one corner of the room and runs the length of your vanity counter wall before dropping waterfall-like and then curling underneath.
This provides both top countertop space and a lower shelf for extra towels and soaps below. Super minimalist as it adds the least amount of extra material to your bathroom wall, it's also ripe with potential for mixing and matching different sleek, minimalist styles and colours. 
Wall to Wall Shelf
Depending on the size of your bathroom you might want to consider a floating wall to wall shelf. Just like it sounds, this vanity is a simple stone or wooden bench that spans across the entire wall of your bathroom.
No cupboards below, optional open shelving above and you're set with the ultimate in minimalist design. Couple this with a large frameless mirror on top, a free standing bowl-sink and even a chrome towel rail mounted below, and you've got a practical and stunning floating bathroom vanity. 
Large Vessel Sink
It might not be the most practical design but there's nothing like the singular visual effect of a large vessel sink sitting on top of a free floating vanity unit. Big and bold yet simple in its style, there's a lot to be said for this over-the-top style of sink.
Glass Basin
While we're on the topic of fantastic sink ideas, a see-through glass basin–rectangular of course–makes for an excellent adornment for a floating bathroom vanity. We recommend parking it with a dark wood counter or vanity unit rather than light colours. Whether or not you'd like to add an LED lighting strip to really bring the vanity to life however is up to you.
Natural Stone
A natural stone floating vanity is an excellent way to maintain minimalism while infusing a depth and complexity within the vanity itself.
Whether you opt for a sink that's incorporated within the vanity itself, choose a stone block sink without attached cabinetry or go for a classical looking vanity that's simply made from natural stone, there are plenty of options for using stone in your floating vanity unit. 
For more natural stone vanities, click below:
Contact Us For More Floating Vanity Ideas
There you have it: floating vanity unit ideas for the modern minimalist.
Of course, there are any number of floating bathroom vanity designs and ideas and the Euro Marble team would love to help you find the perfect style to suit your home. Why not get in touch with us today? We'll happily help you in a friendly, pressure-free way.