Where to Save and When to Splurge
Home Renovations can transform homes from drab to fab. However, not many of us have unlimited funds so we need to make decisions on where to spend to make sure we are getting 'best bang for our buck'.
Suzanne went further, acknowledging 'not money of us can afford to spend from an unlimited amount of money, so knowing where to be savvy with where you decide to spend up, and where you can save comes down to making smart choices. By making smart decisions about selections and fittings, you can save a heap of money, while still getting a great home renovation. Suzanne has put together her top five tips on where to save and when to splurge on your home renovation.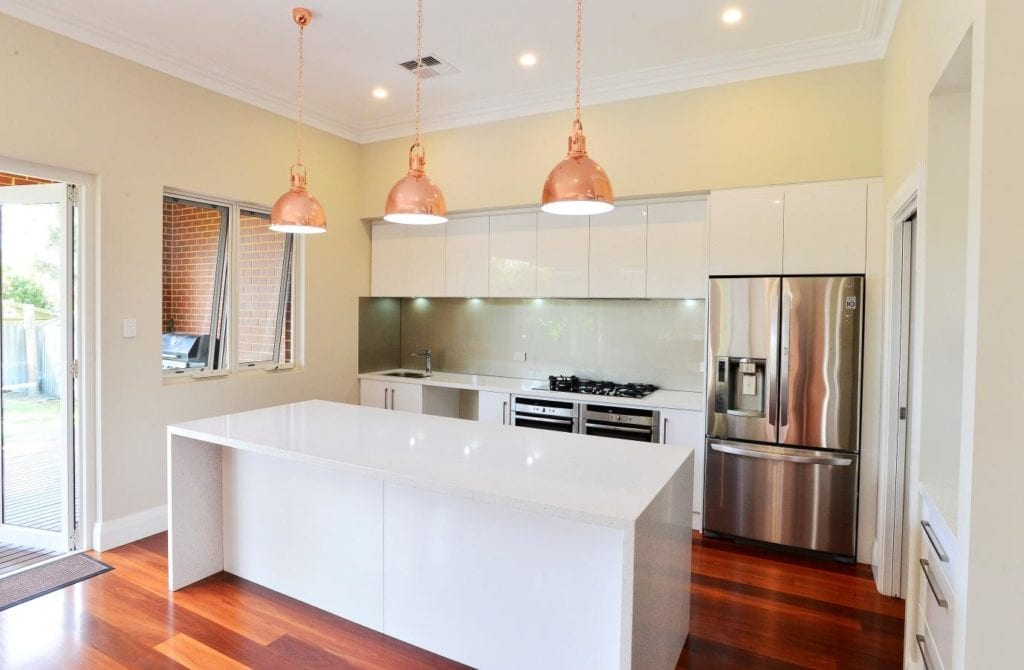 Home renovation by Amerex Renovations and Additions featuring a stunning kitchen makeover.
Tip 1 | SPLURGE | Stone Benchtop in the Kitchen
By far and away, a stone benchtop is an absolute must. If you can only afford to spend up on one splurge item then this is it. I would say that almost 100% of our clients are opting for stone benchtops in their home renovation and extension projects nowadays. They have simply set the benchmark for quality homes.
Why are they so popular? They look good, feel nice to touch and with durability and longevity on their side, they will continue to provide style and class to your home for years to come.
They are easy to look after and if and when the time comes to sell your home, a great kitchen is one of the big ticket items that many home buyers are looking for. It stands to reason then that a stone benchtop will contribute to the value of your home both now and into the future.
Tip 2 | SPLURGE | Quality Fixtures in Kitchens
Kitchens are the hub of the home and scrimping on costs on this room is something that you will regret later on. If your kitchen does not stand the test of time due to poor quality finishes and fixtures, it may limit the resale value of your home.
Your kitchen is used every day and needs good quality fixtures, appliances and finishes to withstand the treatment it will get. Spend here and thank yourself later.
Quality choices mean that you won't be stuck with replacing tap ware or repairing your cheap appliances in just a couple of short years. This could you more over time than if you had chosen better quality in the first place!
Tip 3 | SPLURGE AND SAVE | Home Security: Spend now and Save Later
If you don't have home security, get it. If you are about to undertake a home renovation, there is a good chance you will need to perform electrical work too.
This provides you with the perfect opportunity to build in security at the same time as other electrical work. Doing it at the same time will be less expensive that fitting at a later time.
Not only that, but an effective security system will save you money in the long-term while providing you and your family with great peace of mind. You cannot put a price on keeping your family, possessions and home safe. So while this will initially cost money to set up and install, it will save you in so many ways. Including savings on insurance claims for theft and damage (which often leave you out of pocket), and also help prevent a break-in to your home, saving you from the stress, inconvenience and emotional trauma that this can cause.
Tip 4 | SAVE | Bathroom Tiles Do Not need to Bust the Budget
Bathroom tiles can look great without being expensive. Seek out the assistance of a local tiling company or interior designer who can help you to design and select tile patterns and colours to match your style, without costing you a fortune.
There are often sales where you may be able to get premium quality tiles at a discounted rate. Tiles are often reduced to clear the last remaining stock, so a word of caution, make sure there is enough stock to meet your needs, while also allowing for wastage. If you get close to the end of your renovation and do not have enough tiles and need to order more, chances are they may come from a different batch, so you may find that the colour or texture may vary and therefore not match your existing tiles.
Tip 5 | SAVE | Choose Appliances with High Energy Ratings
By choosing appliances such as dishwashers, washing machines, dryers, refrigerators and freezers with a high energy rating you can save on future electricity bills. You will need to balance out the purchase cost with the long-term savings to make sure that you end up in front.
Ideally you will find a find an affordable appliance that also has a high energy rating so that you are winning on both fronts. With energy bills seemingly on the rise everywhere, this is a smart idea to save you money on an ongoing basis. Choose wisely now and thank yourself over and over in the years to come when those bills roll in.
In Summary
Smart choices and a blend of both splurge and save items for your home renovation can really deliver great 'bang for you buck' in your home renovation.
Think beyond the immediate cost of an item and factor in the long term benefits and rewards too. Sometimes spending more for an item initially will deliver cost savings in the future!
We talk to Suzanne Burke, the General Manager at award-winning renovation company Amerex Renovations and Additions who said 'Doing an entire renovation on the cheap is not recommended and can look terrible and even devalue your home instead of adding value'.
[simple-author-box]