Granite Slabs
Granite is an igneous rock and natural stone, which is made up of quartz, micas and other trace minerals and comes in a spectrum of colours and textures.
Magma forms below the surface of the earth, then slowly cools – this is how granite is created. As the magma cools, the amount of each mineral present can vary, which is what leads to large amounts of variations.

This high-quality natural stone is both durable and functional around the home. As it is heat, bacteria and water resistant, there are many diverse ways to use granite around the home, which is why it's such a popular material.
Kitchen benchtops: granite slabs are very useful in the kitchen due to it being a natural stone. This means it can withstand day-to-day use, such as heat and scratches. When it's properly sealed, it is bacteria and stain resistant, which is ideal when it comes to food prep and ensuring health safety.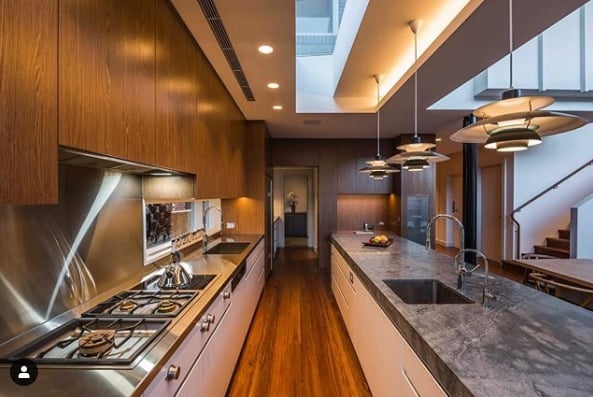 Bathroom granite vanity tops: as it is resistant to water, mould and bacteria, granite is ideal for the bathroom. It also serves well in the bath itself.
Granite backsplash: equally functional as a backsplash, it acts as an ideal barrier between the water and wall. Using the same type of granite as the vanity tops, also gives an appealing consistency visually.
Granite flooring: as it is resistant to bacteria, granite makes a great choice for smooth surface flooring, which looks good. It's also easy to clean, and with regularly sweeping, it's easy to keep it in good condition.
Pavements: using granite in the outdoor area such as a patio, or driveway brings the exterior of a house to life.
Variations in granite
Since the 1980's, with the popularisation of granite, there has been a huge increase in new varieties and colour. The ideal thing about granite, is that no two pieces look alike. As it's a natural stone, forged by magma under different pressures, it means there's a beautiful inconsistency in appearance.This is what causes the array of speckled patterns, colours and textures in different slabs, it can also polished, honed, exfoliated, sand-blasted or bush hammered.
Here are some of the variations and colours you may encounter:
Red and pinks: from deep reds, to more playful pinks, these range of shades add for pretty countertops, or bathroom features in any house
Black: black granite has a deep, beautiful appearance and ideal for kitchen countertops. Black Galaxy and other variations of black granite have a space-like appearance, with speckled white features and eye-catching patterns.
White: these lighter shades vary from opaque creams, to milky vanilla white and add to the lightness of a room.
Brown: whilst they may be named brown, some of these stones such as Japarana Buhia are almost maroon in colour. These deep variances add multiple layers to the granite and are perfect for any room.
About Euro Marble:
For three decades, our highly skilled specialist team has been leaders in the stone industry, providing the best natural stone benchtops to our commercial and residential clients across Australia and overseas. This gives us unparalleled expertise and experience, enabling us to provide the highest standards of workmanship, service, and advice to all our clients at a competitive price. Our growth has been built on referrals and repeat business, and we're proud of the wonderful feedback we consistently receive from our clients.
To request a quote or to request more information about our marble benchtops, please contact us today.