If a new kitchen for 2020 is on your wishlist, don't move a finger until you're up to date on the latest kitchen trends!
Sleek, sexy and streamlined superbly describes the current trend of the so-called 'anti-kitchen'. A simplistic approach that attempts to hide the more functional components of a kitchen and create a seamless, ultra-luxurious space. This movement is fully in line with today's modern families – making the kitchen the heart of the home with an easy, open flow to the rest of the house.
Naturally Beauitful
2020 Kitchen trends continue to embrace natural elements that promote tranquillity and well-being, with a few unexpected infusions to leave your individual mark.
Can you think of one material that encompasses all these trends in a neat and naturally opulent package? Natural stone!
It seems no matter where the trends lead these days, Natural Stone keeps making the cut. That's great news for ensuring your natural stone renovations will stand the test of time. And with the incredible variety at your fingertips, you're sure to discover a natural stone that's not only on-trend but worthy of falling in love with, over and over again.
Here are our recommendations for keeping your kitchen trendy next year – and beyond:
Island Style
With the emphasis on quality family time, we've seen huge interest in expanding kitchens and transforming a boring cooking place into the bustling heart of the home.
But too many cooks spoil the broth – so how do you create a stylish space to keep the whole family together, but not bumping heads?
The trusty kitchen island.
Nothing says indulgence like an expansive kitchen island. So how about two?
When space isn't a factor, a matching pair of kitchen islands is the ideal feature that adds both functionality and unsurpassed opulence.
Crafting these islands from the refined Carrara Marble ensures not only timeless elegance but an easy to maintain surface. So no family squabbles over cleaning the kitchen after a cook-up!
Heavenly Handleless
The perfect feature to accompany your new double kitchen island? Handleless drawers.
Continue the seamless sophistication created by your islands and adorn the draw-fronts with either a matching Carrara Marble or a complementing marble such as Statuario Wow.
This elegant trend supports the focus on simplicity and when paired with a marvellous marble, ensures a fabulous feature – as functional as it is pleasing to the eye.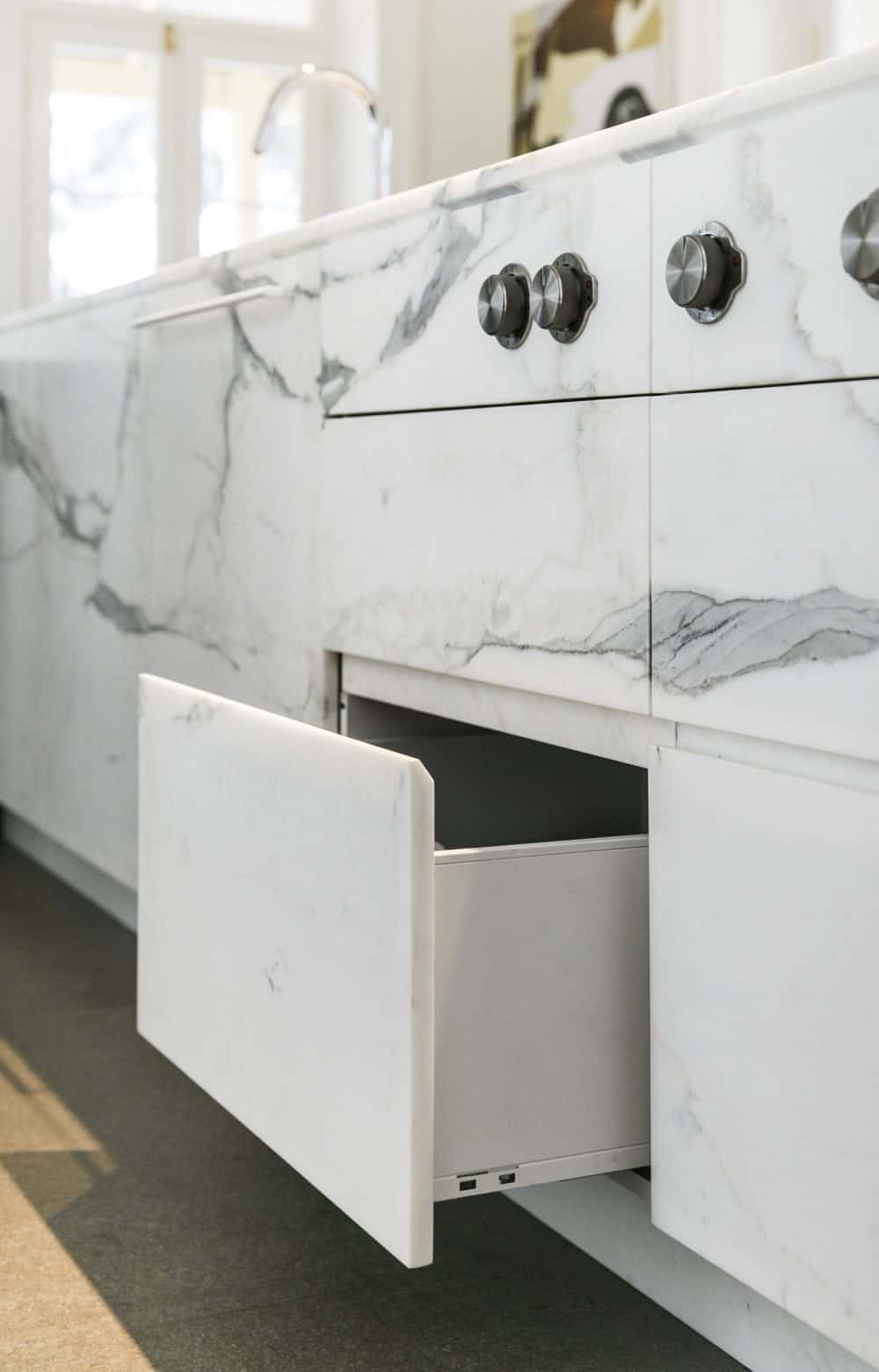 Bold & Beautiful
A sparkly white kitchen will always hold a certain status and allure, but there's a definite move towards incorporating bolder colours.
Adding a pop of colour lends great character to a kitchen and the exciting part is honing in on your desired ambience and then finding the perfect natural stone. From marvellously moody to pretty and playful, there's a marble made for you!
Turquoise Green is ideal for adding vibrancy and life, but if you're after a more demure, moody atmosphere, opt for the decadence of the darker Verde Tinos.
Whether a splashback, bench-top or kitchen island – marble is the one material that adds not only the wow-factor but also scores points on effortless maintenance.
Enjoy a trendy 2020!