An Introduction to Calacatta Marble
While marble is undoubtedly one of the most beautiful natural materials on the planet, some varieties of marble are even more unique and beautiful than others. One of these varieties which is extremely popular here at Euro Marble, is the stunning Calacatta Marble, a beautiful, high-end natural stone. Outlined below are some points about the characteristics and origin of Calacatta Marble and information about where it's best uses in Australian homes and businesses:
The Aesthetics of Calacatta Marble
Calacatta marble has a distinctive look and is known for its thick, bold veining which create a dramatic effect. It's clean, subtle colouring, typically white and grey, leads to this natural stone being highly-sought after by interior designers and architects for luxury interior projects. While, its's best known for appearing in white and grey, Calacatta Marble can also come in shades of green, blue, gold or violet. When these colours combine with the white background, they create a very neutral tone which can be paired with materials like light or dark woods and are great for highlighting or downplay certain architectural elements within your project space.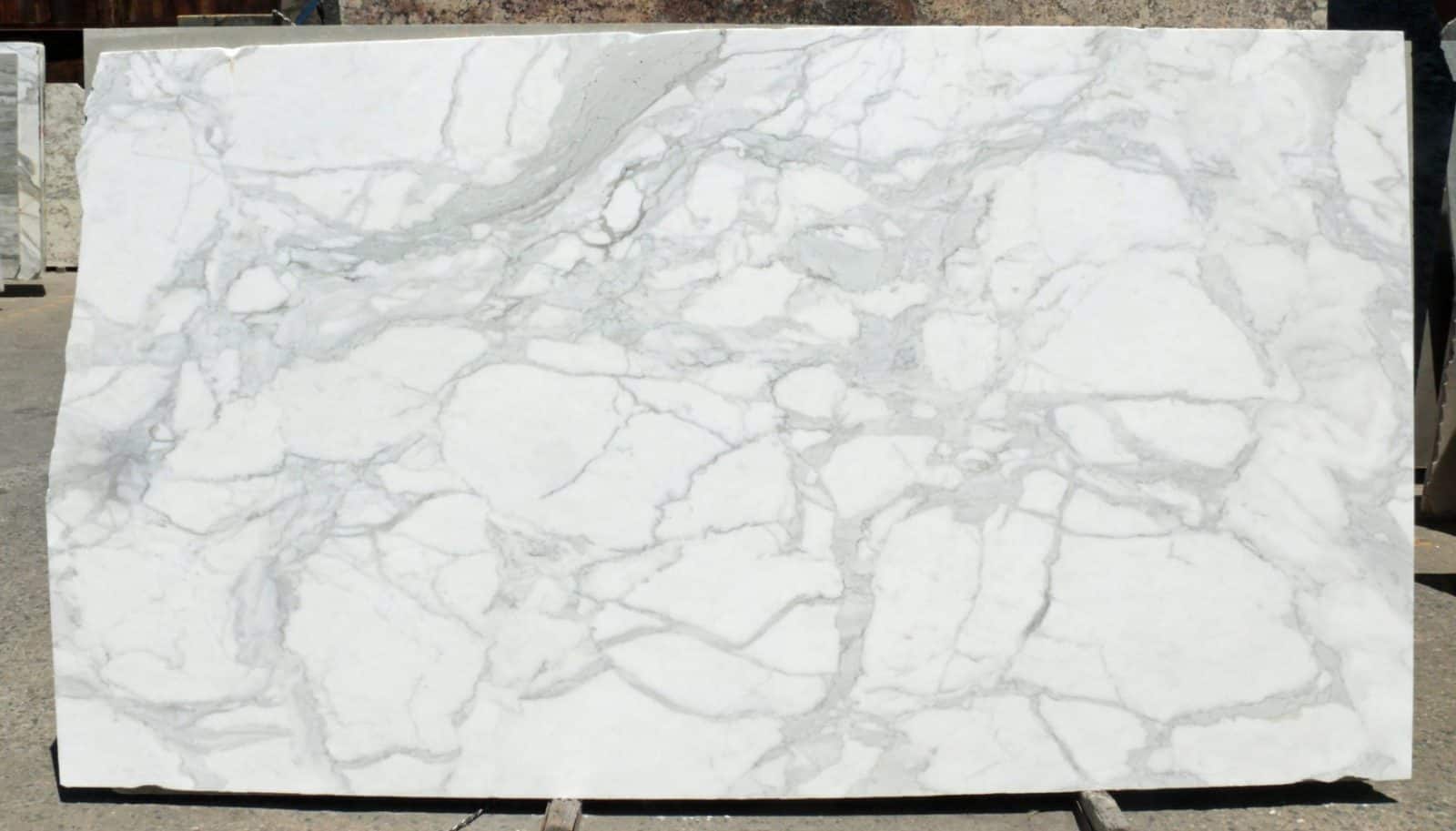 The Origin of Calacatta Marble
While Calacatta Marble is breathtaking in appearance, a fact which is also mind-blowing is that all of the Calacatta Marble in the world comes from one quarry, located in Carrara, Italy. This is made more confusing by the fact that many people already confuse Calacatta Marble with Carrara Marble, which comes from the same region! Given the geographic location of the quarry where we source our Calacatta Marble, along with seasonal issues such as weather which affect the area, Calacatta is quite a rare marble.
Best Uses for Calacatta Marble
The beauty and rarity of Calacatta Marble mean it is generally used in highly-visible areas where it draws compliments and praise from those who rest their eyes upon it. Calacatta Marble flooring is commonly used in entry ways or reception areas of high-end corporate offices or medical practices such as cosmetic surgery practices. Calacatta Marble benchtops and backsplashes are very popular in designer homes in Australia given the elegance and sophistication they portray. Equally, the bathroom is a perfect place to use Calacatta Marble on areas such as shower walls, bathtub surrounds and vanities to create a feeling of luxury and opulence in the space. Our clients also often opt for Calacatta Marble for open fireplace surrounds and hearths as a feature piece in the living area.
Here at Euro Marble, we are industry-leaders in Australian in marble, granite and other natural stone. Whether you're an architect, interior designer, high-end builder or an end-user please drop into our Sydney showroom or call or email us today to discuss which natural stone is right for your individual project.
Costa has a passion for aesthetic natural products and in particular LOVES his stone. He has been part of the Euro Marble team for many years where he has completed roles in estimating, sales & marketing and project managing.  His knowledge, along with industry and company experience makes him a true asset to the Euro Marble Group.