Brilliant colours and veins, origin, rarity, and history are what make Calacatta Marble slabs especially desirable. This natural stone evokes prestige like no other in the stark contrast of its dark and gold veins against a vivid white background or field. It seems to convey both light and life to the space it inhabits, creating nothing but a sense of luxury and exclusivity. Perhaps this is why it carries the badge of being Michelangelo's favourite stone to work on.
More special still is Calacatta Borghini. While not all slabs are cut the same, Calacatta Marble is exceptionally rare and sought after. No other Calacatta possesses gold veins and honey hues than Borghini. In addition, because it is extracted from inside the mountain itself—as opposed to the more-common extraction area at the mountainside—production is very limited, resulting in its very high marketplace value.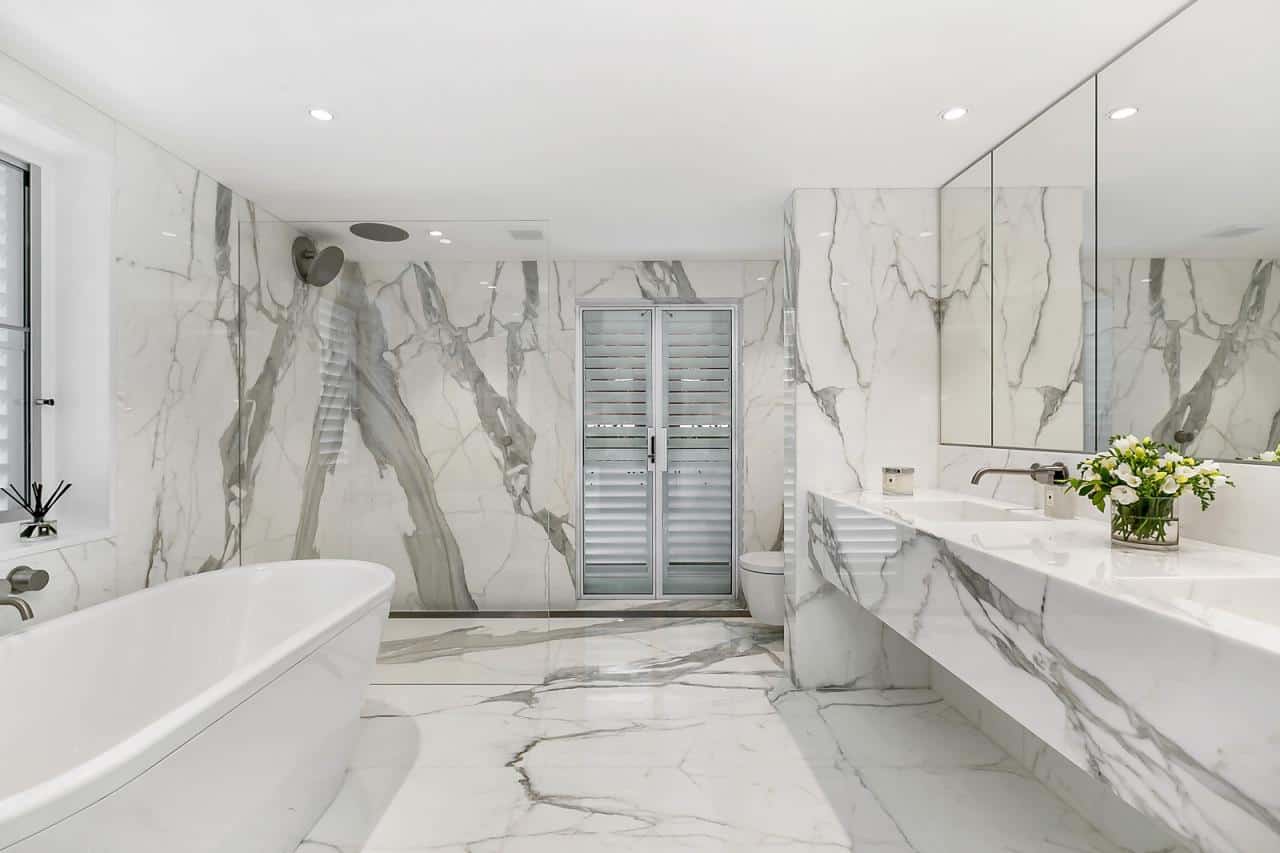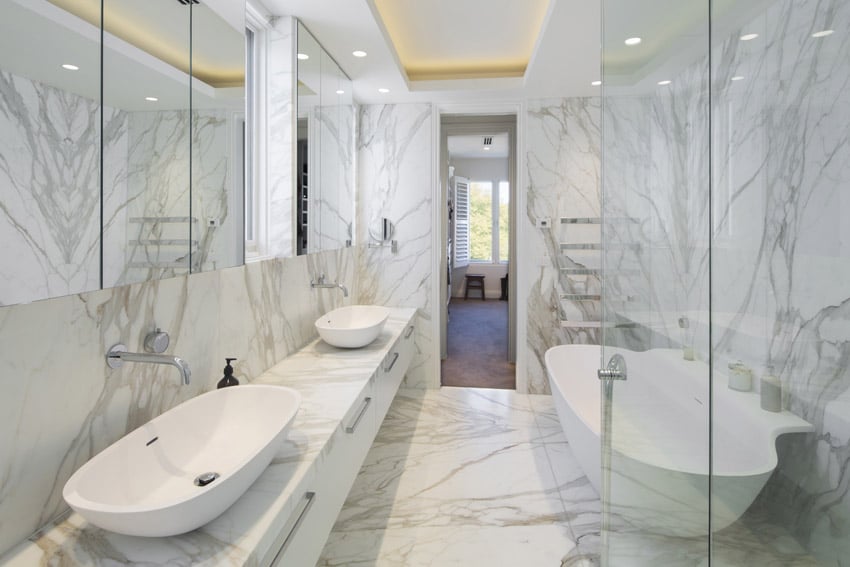 Oftentimes, when people speak of marble, they usually think or confuse two varieties: Calacatta and Carrara. Perhaps the confusion lies in their origin—both are quarried from the same Italian region of Carrara. However, their similarity stops there.
Calacatta Marble is defined by its smooth and brilliant white field. As the field turns a little greyer and a little muddier, the marble ventures into Carrara territory. In addition, while Calacatta's veining is bold, dark, and thick with gold and honey splashes, Carrara's are more light and feathery, ranging from grey to blue.
Finally, Carrara is more common and readily available than Calacatta Marble, making the former more affordable and the latter considered luxury.
Cost of Calacatta Slabs
It must be made known that not every Calacatta marble benchtop is expensive and the material varies greatly, catering for a wide range of customers and their budgets. The material ranges in price from $800/m2 + GST to $2,500/m2 + GST. The below lists a few factors that play a role in determining the price of Calacatta:
Material Type
Generally speaking, in Italy the Calacatta material is graded and priced accordingly based on its visual appearance. The slabs with a brighter white background as opposed to milky white or grey and prominent evenly distributed grey veins are highly desirable and therefore are sold for a premium on the market.
Thickness
The thickness of the slabs in questions will strongly determine the price charged. For example the conventional 2cm or 20mm stone slabs are the most economical and clients usually build up these materials by mitering the edges to appear thicker. As the stone thickness increases to say 3cm – 5cm the price unfortunately does too.
Installation
The material or supply only price is only a small piece of the pie and installation must also be factored into the overall price. There are many factors that will change the Installation price such as access to the property. Poor access from walking up several flights of stairs will result in multiple installers having to carry the piece in. Similarly, the size of the piece will also affect heavily the weight of the piece and how many installers are required to lift and fit.
Finish
The finish of the Calacatta marble slabs can also impact the cost of the stone. A honed or matte finish on the stone is the most commonly used finish for Kitchen benchtops and shows off the natural beauty and veining of the stone more so than others. A polished or gloss finish is usually appropriate on vertical non useable surfaces like bathroom walls or feature walls. There are numerous other finishes which are more difficult to achieve and require machinery to do so. These can include Sandblasting, bush hammering, acid etching and brushing. As these finishes are more difficult to achieve, they have the tendency to drive prices up of the stone.
Calacatta Marble Care and Maintenance
Patination is natural in authentic marble. However, marble care and maintenance actually require little effort provided that your stone slabs are finished with a high-quality sealer, which prevents liquids from seeping in and staining the surface. Depending on use, resealing is only usually required every two to five years.
Acids like citrus juices, vinegar, or wine can etch finished marble, but these etchings can be removed by scrubbing them with gentle kitchen cleaners.
Over time, these marble slabs can be re-sanded and re-polished to maintain their immaculate condition.
Cleaning Marble Fixtures
Once the marble has been sealed, it is easy to clean. Only a clean damp cloth and some gentle soap are usually required. Acidic and strong cleaners are not recommended as they adversely affect the sealing and/or etch the marble itself.
Liquids that stain, such as juices and wine, should be wiped off as soon as possible with a clean dry cloth. Water should not be left on the surface as well to prevent discolouration. Oily spills can be completely soaked up with clean paper towels. Talcum powder or flour is an excellent tool to draw out any remaining liquid.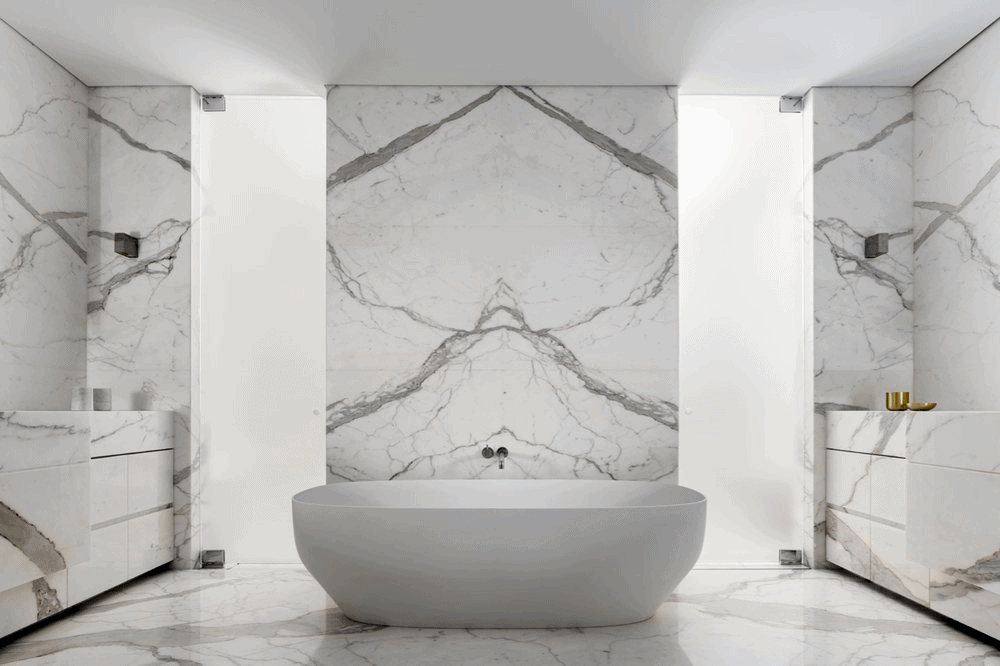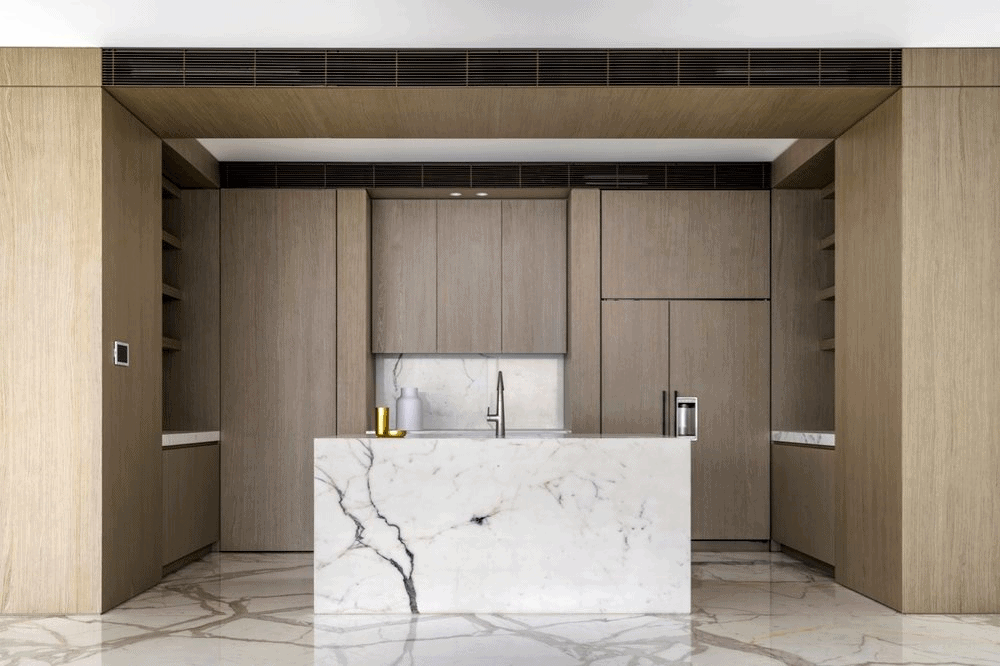 Why Choose Euro Marble
If you're enamoured by the most luxurious marble slabs Italy can offer and seek Calacatta in Sydney, it is easily available through the city's top natural stone merchants. But if you want to ensure that your marble designs and fixtures make the boldest of statements in uniqueness and exclusivity, Calacatta Borghini is the only choice there is. Few in the industry and fewer still in Sydney—indeed the whole country—have access.
Fortunately, Euro Marble has the opportunity to source this rarest stone from the quarries of Borghini, Italy, to your home or business in Sydney. Euro Marble has been providing a superior range of natural stone products and services to Australian residential and commercial sectors for the past 30 years, establishing us as industry leaders. Our team of craftsmen are renowned not only for skilfully creating bespoke designs of superior quality but for excellent service as well.
Talk to us today for any enquiry and/or request. We would be happy to assist you.
For marble experts, Calacatta marble is at the very top of the line. It originates from the mecca of marble, Carrara, Italy giving it a natural stone pedigree. It has been a favourite of Renaissance masters, gracing the world's renowned castles, cathedrals, and churches, and possesses a most desirable colour and veining, so one can't go wrong with Calacatta.
At Euro Marble, we source our Calacatta Marble from one of the world's best and time-honoured Italian quarries—Borghini Quarry. Hence, the exclusive Calacatta Borghini.
Calacatta Borghini is a smooth white marble with bold grey, gold, or honey veins. This natural stone gets its identity and rarity from its crisp white colour where the whiter the marble, the rarer it is. Slabs of more consistent patterns fetch more allure, perfect for staircases, floors, facings, even small decorations, as well as countertops for kitchens and bathrooms.