Dreaming about transforming your ordinary bathroom into a shimmering show-stopper?  This guide is packed with bathroom renovation ideas.  It doesn't matter if you're on a shoestring budget or if your budget overshadows the president's, we'll show you where to splurge and where to tighten your belt.
How much will my bathroom renovations cost?
Below is an estimate of what you're in for:
A Budget Bathroom Renovation:
$5 000 – $10 000
The Average Bathroom Renovation:
$10 000 – $25 000
The "No Holds Barred" Bathroom Renovation:
$25 000 – The sky's the limit!
A Small Bathroom Makeover vs. A Large Bathroom Makeover:
Looking at the above ranges, your small bathroom would be at the lower end, and a larger bathroom at the upper end of the price range.
Small bathroom = under 5 square meters
Large bathroom = over 5 square meters
Keep in mind that the cost per square meter for bathroom renovations in Sydney might differ from other cities, as material and labour costs tend to vary quite a bit from city to city.
How Long Does It Take To Renovate A Bathroom?
Ideally, you don't want to rush the renovation team, but every extra day increases labour costs, not to mention the disruption and inconvenience to your household.  Like the cost estimate, the time frame can differ significantly and depend on so many variables that at this stage, it will only be a guestimate.
A cosmetic makeover could be achieved in as little as a week, while a complete remodel could potentially run into months.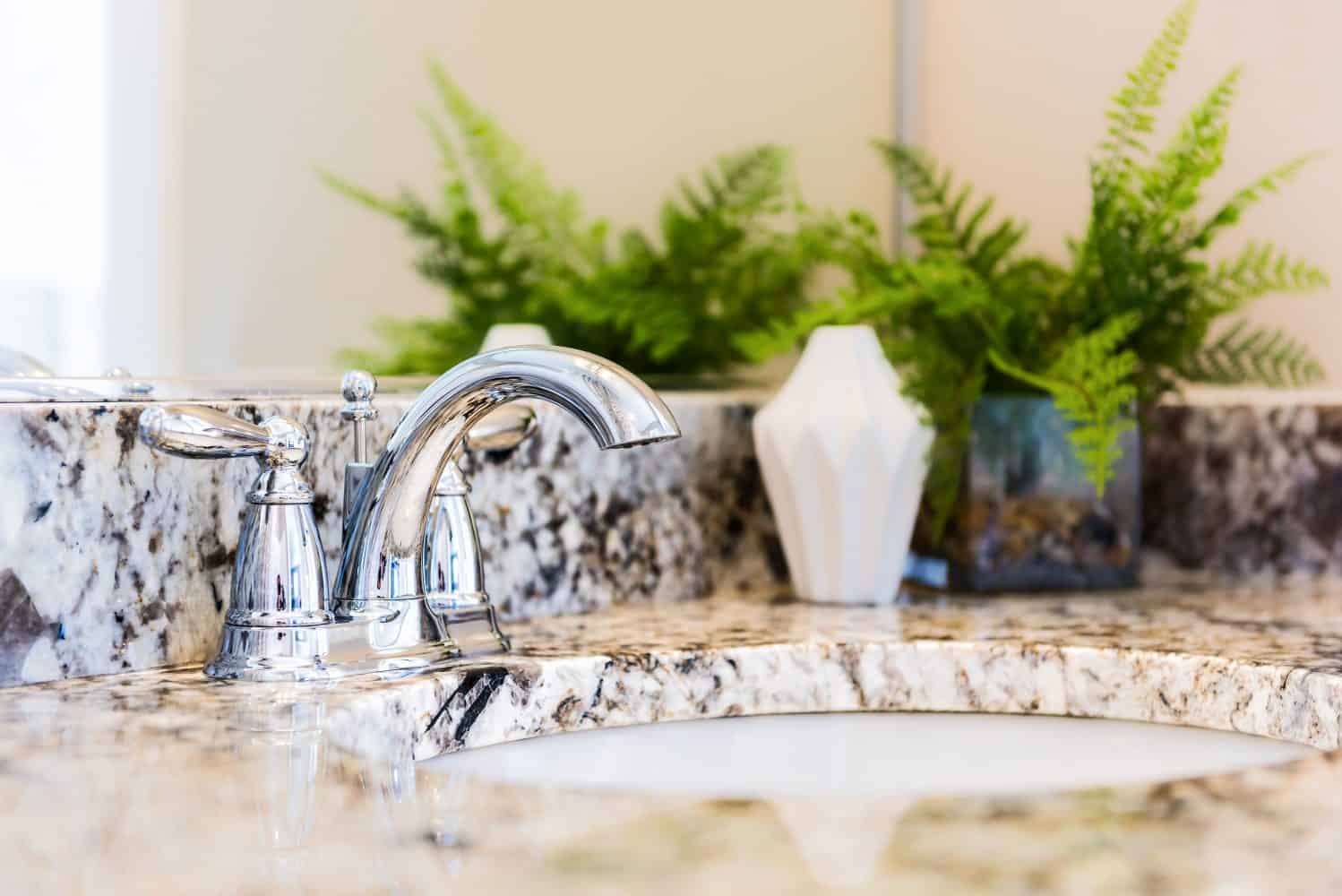 How Do I Start Planning My Project?
Planning a renovation could be compared to planning your wedding, and you need an indication of where to allocate most of your budget and in which areas it would be acceptable to assert your frugal side. The cost distribution largely depends on the extent of your bathroom renovation, thus the below figures only represent a basic guideline:
Labour – 20%
Cabinetry & Hardware – 15%
Fixtures – 15%
Faucets & Plumbing – 15%
Flooring – 10%
Countertops – 5%
Design – 5%
Walls & Ceilings – 5%
Lighting & ventilation – 5%
Doors & Windows – 5%
How Do I Keep My Budget Under Control?
Be Realistic And Fair
If your budget is best suited for a cosmetic touch-up, make sure your renovation expectations follow suit. Expecting your team to perform miracles on a teeny tiny budget can cause resentment from both parties, and leave your project hanging in the balance.
Insist On Detailed Quotes
If you skimped on the detail during your design process, then you might suffer when your incoming quotes reflect ballpark figures, instead of a comprehensive document.
When you've honed in on the most reputable company to assist you in your bathroom renovation endeavours, ask them to follow up on their online quote, visit your premises in person and then provide their final itemized quote.
Expect Unexpected Costs
It's general practice to take your set budget and add on another 10-20% for those pesky, unexpected expenses that always crop up.
This is especially prevalent with more substantial projects where hidden damage is discovered once the floors and walls as stripped bare.  Water and mould damage are the main culprits and could ruin your perfectly planned budget.
Depending on the extent of your renovations, and if you opted for alternative accommodation during the project, you could be faced with various unexpected costs.  The age-old saying: "Time is money", comes to mind.
How do I decide on a Bathroom Design?
Start with the end in mind, and if you don't have the end in mind, start with finding reputable tradespeople that can assist you from the outset. It's great if you have a set idea and can visualize the exact design of your new bathroom, but if you don't, make use of a professional designer to assist in maximizing the space at hand and crafting a seamless design.
Skimping on the time necessary to cement a proper design, means that costly changes could be required mid-renovation.  It is also imperative to prevent scope creep.  Resist adding on "little" extras during the renovation as this is an open invitation to "unexpected" delays and costs.
9 Tips To Make The Most Out Of Your Bathroom Renovation Budget:
Tip 1: Create A Lavish Focal Point
Investing in one statement feature is a simple way to upgrade your bathroom, while keeping within your designated budget.  Ideal options to create a featured focal point are to upgrade your vanity top or basin, or add a feature wall.  With so many materials to choose from, you can be sure to match the look that you're after, be it the understated classic look, or an over-the-top royal look!
Vanities: 
Everyone agrees that vanities are convenient and versatile.  You might decide on a simple,  minimalistic look, or opt for a luxuriously opulent finish, the options are endless!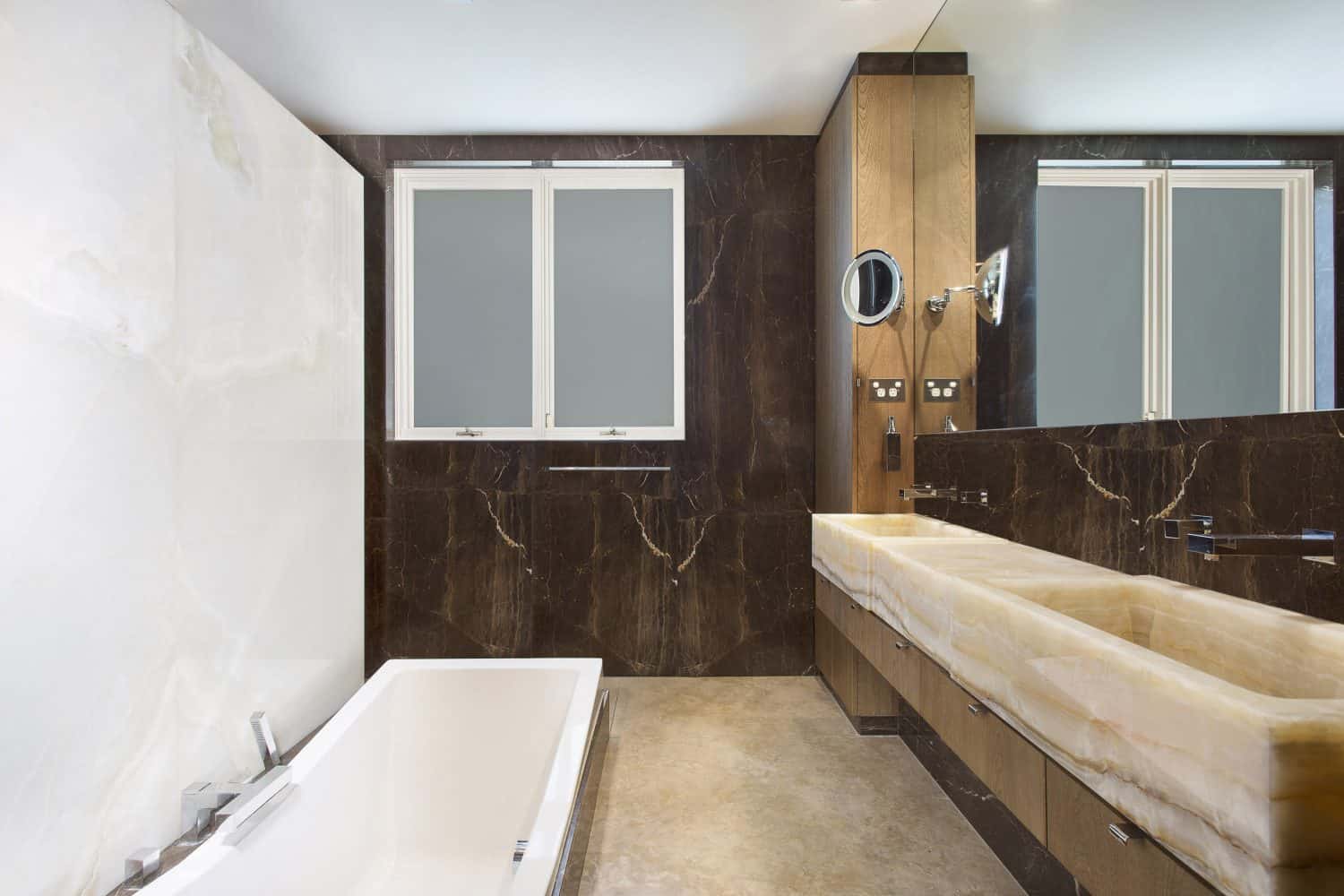 Travertine Vanity Tops & Basins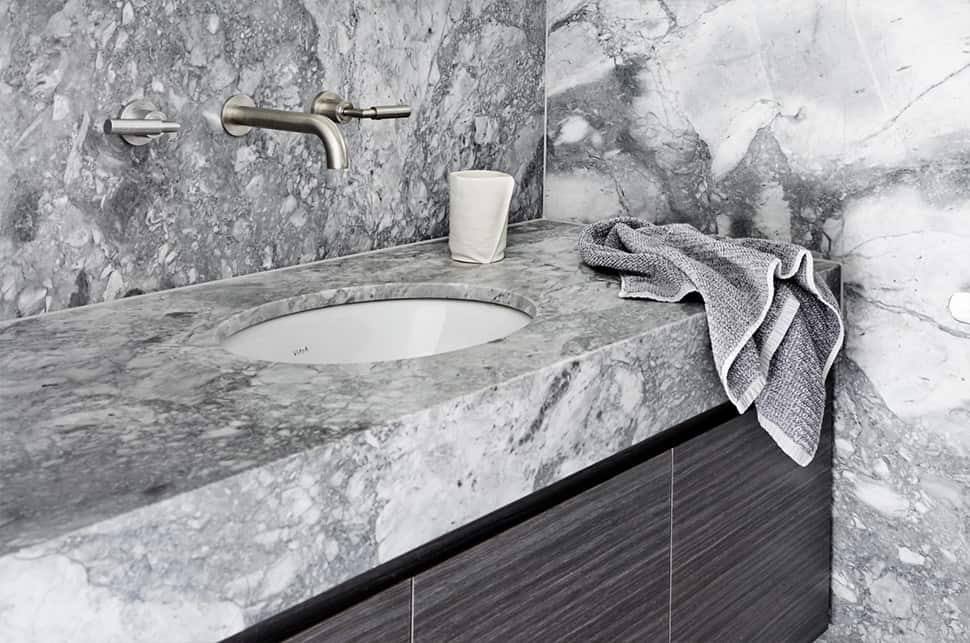 Quartzite Vanity Tops & Basins
Feature Walls
Feature walls can create a stately ambience and fit perfectly with a minimalistic design.  You can really go to town by combining different colours and textures or keep to a classic elegant look.
Marble Accents
To complement your feature wall, continue with the same tile throughout and add splashes of accents here and there. Because of the wide variety available, your chosen marble hue will easily pair with almost any décor you have in mind.
Tiles, especially marble tiles, are seen as an artistic element and when appropriately used, will transform any space into an extravagant escape.
One of the most cost-effective marble options is Carrara C Marble.  This versatile Italian marble is one of the most refined and precious stones, easily recognized by its consistent white to grey background colour with accents of sporadic light grey veining.  Available in both tiles and slabs, Carrara marble can be used to kit out your shower or vanity.  If your budget allows, consider covering your entire bathroom floor and walls for the ultimate luxe look.
Tip 2: DIY
Depending on the extent of your handyman skills, jumping in and doing some of the work yourself is an excellent option for saving on one of your most costly expenses, labour.
Of course, if your handy work turns out to be not so handy, then it might cost you more when the professionals are called in to take over.  If you are a regular DIYer, you might already own a lot of the necessary tools and equipment, or you could always borrow from a dear friend.
The very last option is to rent, and that might work out even more expensive than hiring a contractor that already owns all the right tools.
Tip 3: Keep All Plumbing In Place
At the start, you might envisage a complete overhaul of your bathroom, but consider keeping your existing plumbing in place. This is where you can save by being creative and working around the current placement of your existing toilet, shower and vanity.
If you're struggling to visualize your new breath-taking bathroom, a professional designer can bring their years of expertise and suggest the best changes to suit your specific set-up.  Install a walk-in shower, or a stylish wall faced toilet to achieve a high visual impact at a lower cost.
Tip 4: Concrete Floors
Concrete floors are not just great options for industrial purposes.  You can achieve a terrifically trendy look by opting for concrete flooring washed with a fab finish. All this while keeping the bank balance nicely in check.
This earthy option might come into play after you've lifted up old tiles or pulled off a sheet of vinyl that covered the concrete, or you might have elected to pour a brand new slab of concrete.  Either way, don't even worry about polishing it, just give the concrete a grind and paint with a layer of polyurethane to ensure durability.
Tip 5: Pick The Paint, Turf The Tile
A quick and easy makeover starts with a great paint job, and you will be amazed at what could be achieved by combining certain hues.  Remember, you're not limited to just your walls, try playing around with a different coloured ceiling!  You can even paint over old tiles and worn out wood elements.  The only limit here is your imagination.
Tiling out a complete bathroom can very quickly bust your budget, those tiny tiles can quickly rack up a pretty penny. Electing to rather apply a fresh lick of paint could save those precious dollars for your focal point.
If you've fallen in love with a specific and costly tile, use it sparingly alongside other more cost-effective solutions.  Not only will you save quite a bit, but your particular tile will stand out more and be immediately noticeable.
Tip 6: Work Wonders With Wallpaper
Wallpaper is not just something that was a hit in the late 1800s.  Matched with the right paint colour and accessories, you can turn your bathroom into a homely haven with a wow factor.
Think green and choose a wallpaper with a metallic sheen that reflects natural sunlight. This will have the added benefit of keeping your electricity bill in check.  Don't be tempted to bath your whole bathroom in one funky pattern as it can easily make your space looked cramped and uninviting.
Bathrooms in newer modern homes usually follow a neutral palette that suits most people's taste.  Older bathrooms do well with a bold and daring flair. Add your own personality into this tiny tucked away space, and keep to more neutral tones throughout the rest of your home.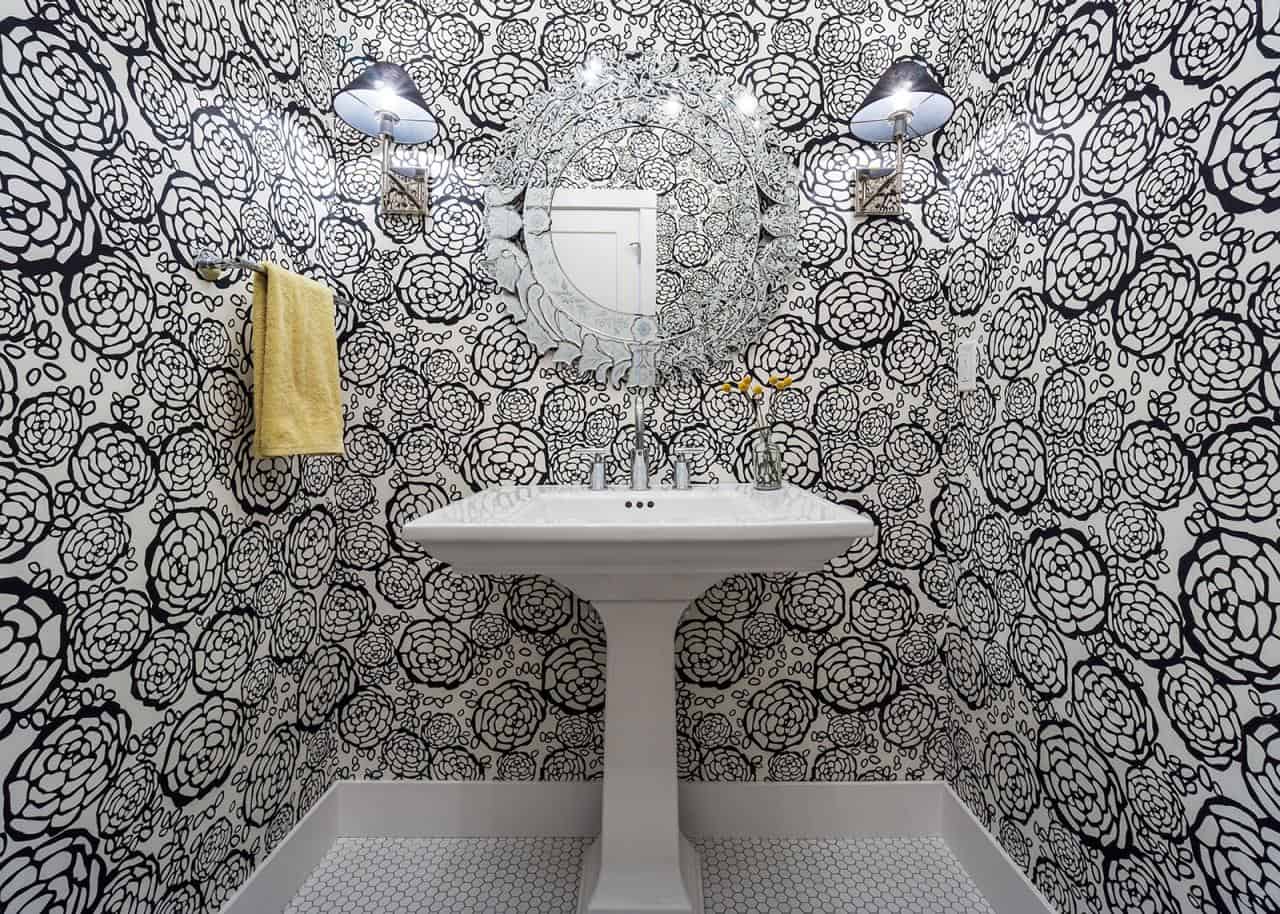 Tip 7: Go Easy On The Environment, And Your Pocket
Purchasing used materials or repurposing old ones is not only better for the environment, but also a savvy money-saving strategy.  This doesn't just apply to fixtures, even toilets and showers could be picked up at a fraction of the cost of a new one.
A host of second-hand websites could keep you busy for days as you search for that perfect inexpensive accessory. Depending on how much time you have your in your busy schedule, a well-planned DIY project can transform many an eyesore into a spectacular centrepiece.
If buying new, consider water-saving shower heads and faucets.  They often cost less than their traditional counterparts, and you will also save in the long term by conserving your water usage.
Tip 8: Resurface Your Bathtub Or Shower
It is always tempting to splash out on all new fixtures and fittings to compliment your new fresh bathroom design.  Try hold yourself back a little and keep in mind that repairing and retaining certain elements could mean a considerable saving.
This especially applies to resurfacing your bathtub or shower.  Usually, the changes are purely cosmetic and can be addressed quickly, even cracks and nicks can be sorted out with a simple refinishing.
Tip 9: Save When Accessorizing
Amenities like towel racks, light fixtures and sink faucets are an easy, cost-effective instant upgrade.  You might think the change will be insignificant, but especially in a small bathroom or when you've opted for the minimalistic design, these little updates pack a big punch.
There's always a chance of overdoing your theme and grabbing every accessory that matches your colour palette, so be selective and make every purchase count. The devil is in the detail, and that eclectic chandelier might just be the thing to frame your whole bathroom.
Customers frequently ask:
How Can I Make My Tiny Bathroom Look Bigger?
All is not doomed if you have a minute bathroom.  You also don't need to feel like the walls are caving in every time you need to take a shower.  Follow the advice below to get the most out of your petite spot.
Bath Or Shower?
We say, "Why not both?"  There are some excellent shower over bath options, but if your space is minimal, then a shower will be your best bet. Glass shower screens are all the rage and if fitted perfectly, almost melts away, creating a sense of space.
Average bathroom size = between 3 x 2m and 4 x 5m
Standard shower size = 900mm x 900mm
Standard bath size = 1500mm x 720mm x 400mm deep
If you're renovating an en-suite bathroom, there's a big chance that your adjoining bedroom already sports a dresser.  If that's the case, you will save a lot of room by doing away with a vanity station within the bathroom itself.
Corner Toilet
Tucking away your toilet into a neat little corner can save a lot of space.  There are several designs available that will create a seamless snug spot to home your lavatory.
Magical Mirrors
A large mirror, or even better, a frameless wall to wall mirror, is a neat trick to transform a small space.  Paired with natural light, your bathroom will feel lighter, brighter and a lot more spacious.
White Walls
Darker colours tend to create a boxed in feel, but stark white walls could lend itself to a sterile, clinical look. Instead, select a light-coloured marble tile to achieve a classic and elegant atmosphere.
A last spot of advice, remember that simple is effective.  Stick to the mantra of "less is more" and you are well on your way to crafting a gorgeous bathroom while adhering to your budget.
Whether you are creating a chic bathroom for your own enjoyment or investing in the future resale value of your home, all that's needed is a little bit of creative flair, flexibility on your design, and then stick to your original plan.