All 2020 trends indicate that natural stone is here to stay. The only question left to ask is: "How do I incorporate this timeless classic in my home?"
Upgrading your kitchen, living room and bathrooms seem to have the most significant impact. Perhaps because these rooms are guaranteed to be seen – and admired! – by any visitors.
Our guide is packed with ideas and suggestions, whether you're after a complete interior redesign or just a quick luxurious upgrade.
Lavish Living Rooms
Your living room is often the area in your home where you spend the most time with family and friends. Therefore, it deserves a few luxury touches – and marble is the perfect luxuriant addition!
Marble Floors or Walls
Adorning both your living room walls and floors with the soft white and grey Arabescato Marble will create a graceful, yet awe-inspiring space. Its intense grey veining is a feast for the eyes while not detracting from the light and airy feel of the white background. If you're looking for a more understated elegance, then opt for either marble flooring or marble walls to subtly enhance and uplift your living room's atmosphere.
Marble Accent Wall
While wrap-around marble walls provide a delightful sense of being enveloped in sheer opulence, an imposing accent wall is perfect for transforming your living room in one swift swoop. We suggest doubling the impact with a grand Statuario Venato book-matched feature-wall that also incorporates a cosy fireplace.
Brilliant Bathrooms
Few things are as breathtaking as a bathroom draped in decadent marble, and here you are truly spoiled for choice!
Marble Flooring and Walls
If we could have our way, we'd probably wrap your whole home in natural stone…but we'll settle for your bathroom as well!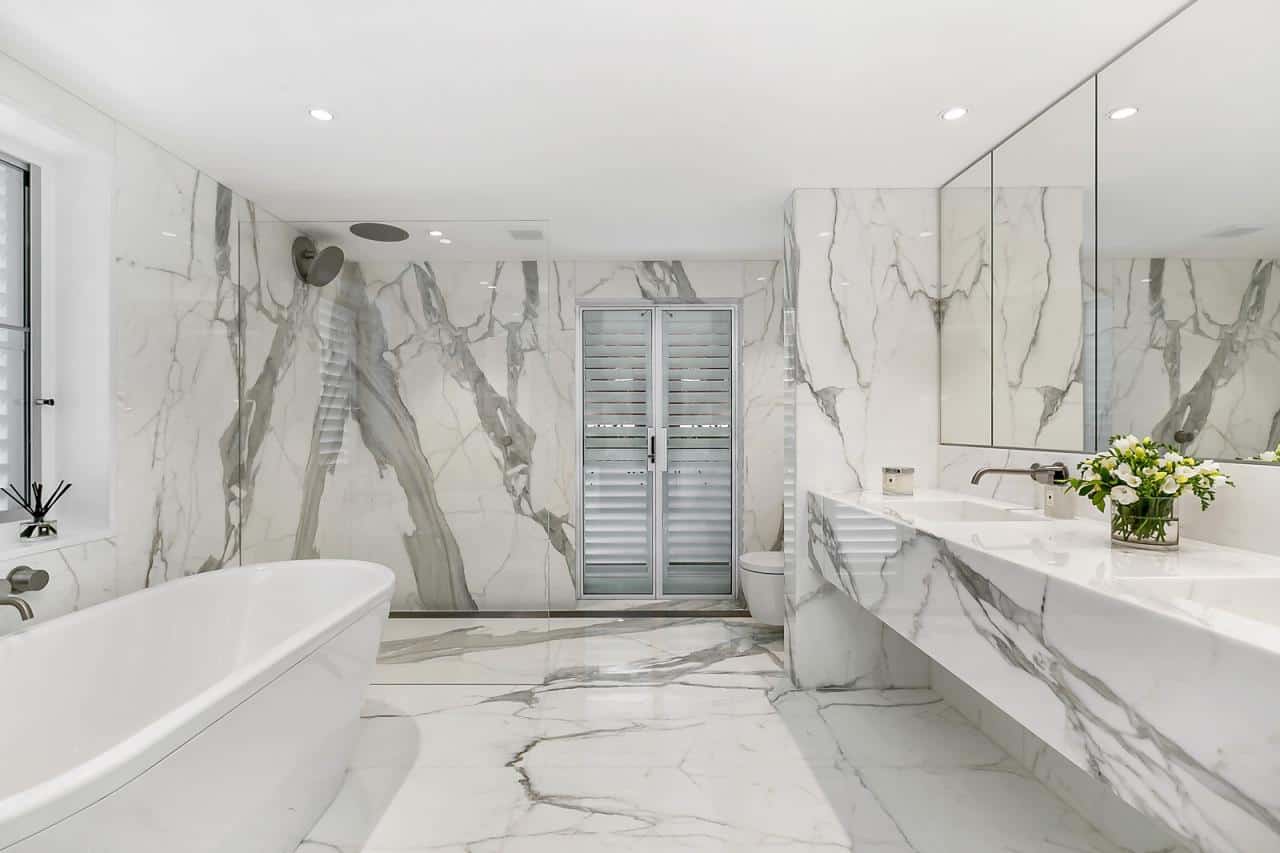 Calacatta marble remains a firm favourite because of its intricate veining that ranges from grey, to a gorgeous glowing gold. This exquisite marble's true potential shines through when featured on a spectacular quarter- or book-matched wall, with marble flooring to complete the lavish look.
Marble Vanities and Marble Drawer Fronts
The darker decadence of Mint Green Marble fits well with smaller marble features like vanities and drawer fronts and adds a lovely fresh feel to a bathroom. Boasting vibrant colouring with specks of emerald, moss and bright yellows, it promises to be an eye-catching feature!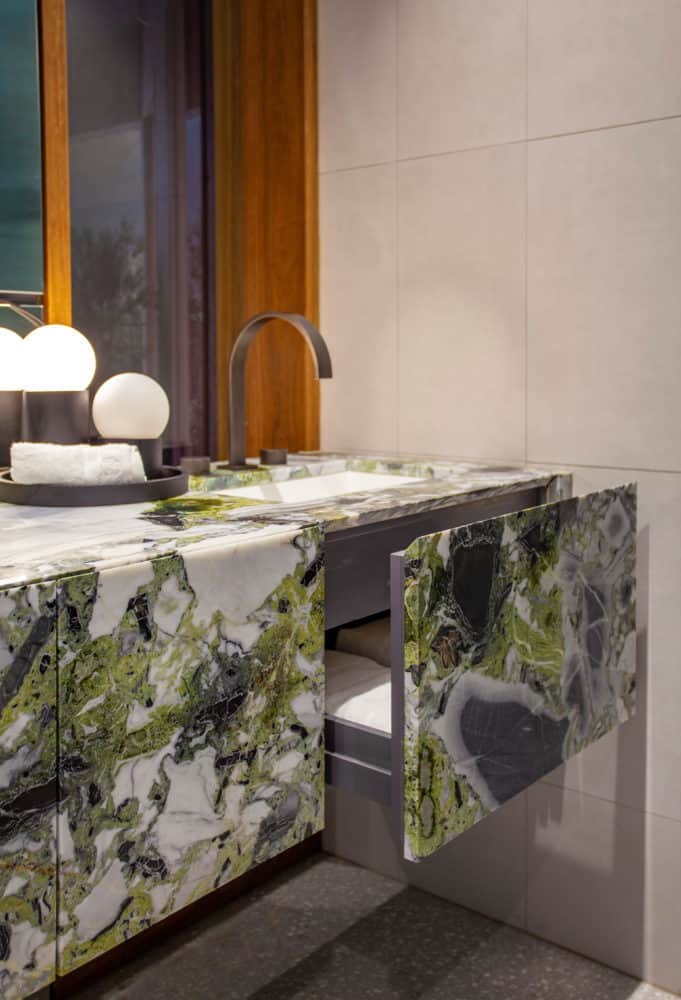 Classy Kitchens
A most popular room and the heart of the home, a kitchen pairs perfectly with sheets of gleaming marble. And whether you're in love with pink, gold, blue or black marble, this versatile space benefits beautifully from all natural stones.
Marble Benchtops
These are the most frequent additions to kitchens as it also provides an easy to maintain, easy to clean working surface.
Carrara marble is still one of the trendiest options – renowned for its refined beauty and luminescence that instantly lights up the room. You'll be pleasantly surprised at how one simple addition to your kitchen can transform this space into an elegant showpiece.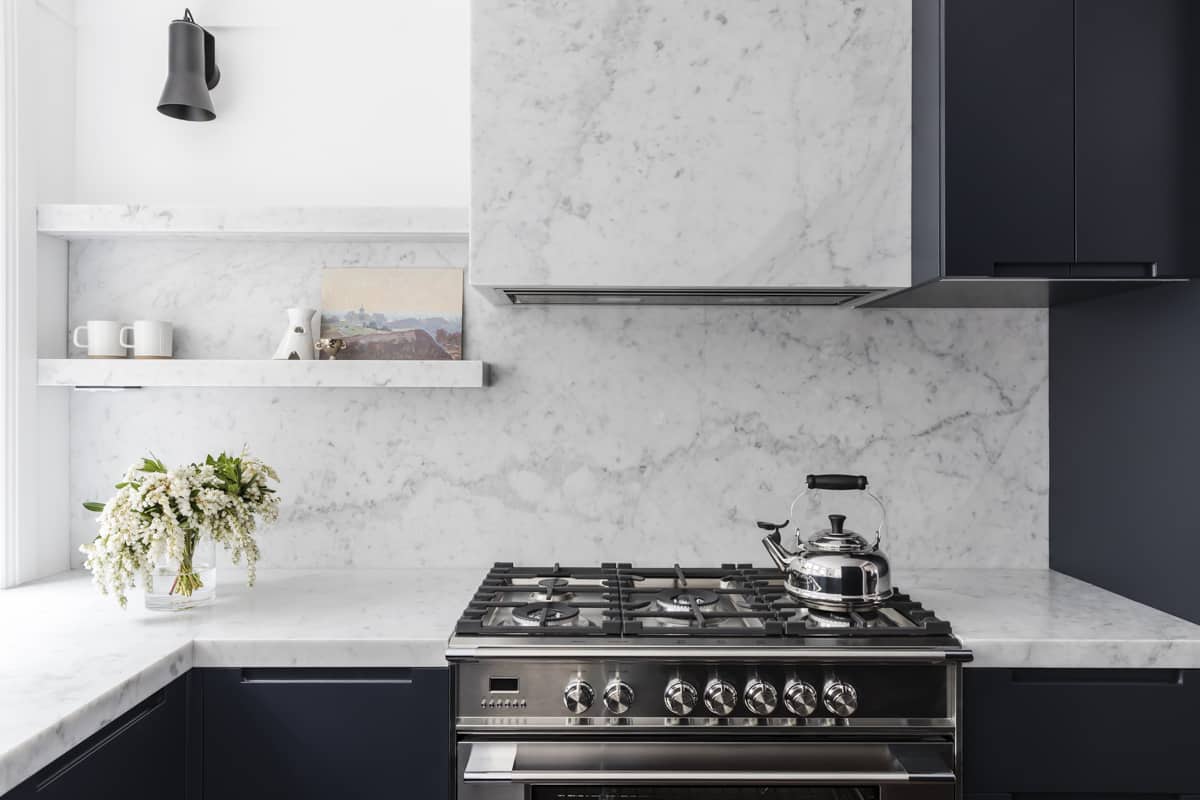 Marble Backsplash
Although the mere addition of marble benchtops is enough to uplift the aesthetics of your kitchen, pairing them with a matching marble backsplash rounds off the chic design and seals the deal to a delightfully stylish marble kitchen.
Marble Kitchen Island
Most indulgent and incredibly statuesque, a marble kitchen island is the epitome of elegant luxury. Either use this impressive addition to blend in and complement the rest of your marble kitchen or choose a dramatic colour to create a stunning showpiece.
Your options are endless and we'd love to invite you to view our entire exquisite range. We look forward to bathing your home in pure indulgent luxury – soon!