If you're looking to design, renovate or update your kitchen there are a lot of elements to consider. One of the most subtle but influential design choices for you to make is your kitchen's splashback.
What exactly is a splashback?
The splashback refers to protection on the parts of the wall where water, moisture, liquids, grease, food or oil might "splash back". Common areas in the house to have splashbacks include kitchens, bathrooms and laundries. In the kitchen, benchtops are found behind the sink, stove, and cooktop. Some homes even have splashbacks behind the food preparation or work-bench area. This will of course depend on the design of your kitchen.
Splashbacks need to be effective and practical in use. Think about the amount of water, detergent, oil, and splashed liquid that goes flying around your kitchen while you're cooking up a storm! A splashback that is overly porous and absorbs splashes, or one that isn't easily cleaned, is going to cause you a lot of hassle over time.
However, that's not where your splashback considerations end. While it needs to be functional, there's also an understandable desire to make it fashionable as well. The design of your splashback can add tremendously (or detract) to the overall look and feel of your kitchen.
There are a lot of material options out there for great splashbacks, but we feel passionately about the benefits of stone. It's stunning, luxurious, effective and endlessly customisable, and there are lots of choices even when it comes to stone.
But don't worry! Help is just a 'stone's throw away'. We've curated 5 excellent stone splashback ideas for your kitchen to get you started on your search.
Marble Stone Splashbacks
Marble is an incredibly beautiful looking stone. Whether you prefer the classic white and veiny look of a Calacatta Belgia marble, the richness of Black Fantasy, or the unique earthy-red-and-white of Rosso Francia, there's a ton of choice!
Marble brings a true sense of luxury and elegance to a home and when used in a kitchen's design it will elevate the entire room. Most commonly, marble splashbacks consist of large slabs or tiles giving the splashback a seamless, clean visual aesthetic.
Marble can also be used for a variety of kitchen applications, including dining tables, benchtops and floors, making the creation of a complementary design of the entire kitchen simple.
On a practical level, marble is extremely effective in protecting your wall from splashes of water or splatters of grease. Its hardiness gives it a natural resistance to heat, which is an important factor considering its placement near and behind stoves. Marble is a durable and long-lasting natural stone making the idea of a marble splashback a sound investment in quality kitchen protection.
To check out Euro Marble's full range of marble styles and find out more information about the benefits of a marble stone benchtop, check out our webpage.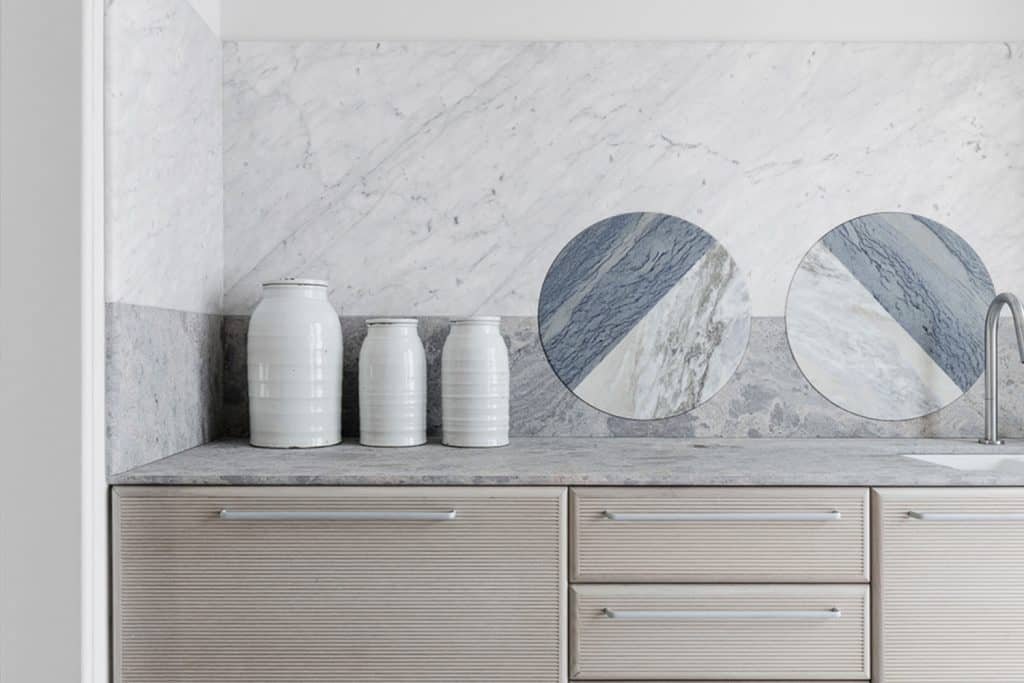 Natural Stone – Small, Bulging Tiled Splashback
Natural stone is a very popular choice. Quarried from around the world, there's no limit in the variation of designs and styles available. Uniquely, because natural stone occurs naturally (of course!) no two stones are exactly alike, which makes this stone splashback idea even more appealing!
The small and bulging natural stone tile look provides a real sense of depth to your splashback that will reverberate throughout the kitchen. Made up of a series of (most likely) rectangular tiles of natural stone, the differing depths of each stone make for an uneven but astonishingly appealing look. If you're looking for a stone splashback that really stands out, the bulging stone tile works a treat. There are a lot of natural stone materials to choose from—you can have a read through many of them here—but no matter which you choose, the jagged, protruding design will certainly make a statement.
Natural stone is a renowned tough material. Its hardiness will prevent scratches and stains, even during the wildest of cooking sessions. A well-maintained natural stone splashback is also easy to clean ensuring your kitchen will look as brand new as the day you installed it for many years to come.
If this particular stone splashback idea piques your interest, have a look around our website for the variety of natural stone designs and colours, especially on the onyx and semi-precious stone pages.
Natural Stone – Large, Smooth Tiled Splashback
If you liked the practicality of the natural stone splashback but don't particularly feel fond of the bulging, small stone look then a large, smooth natural stone tiled splashback will be right up your alley.
Of course, like our previous splashback idea suggestion, you'll still enjoy the benefits of a durable, stain resistant natural stone backing. Only in this case the aesthetic will be different. Instead of a series of smaller stone tiles, with some bulging out, this splashback contains a number of larger stone tiles all of which are smooth.
The elegant nature of this brick-like design combined with the impressive luxuriousness of natural stone make this idea a real winner. We recommend considering some of the still popular but less top-of-mind natural stone materials, such as travertine and limestone. Another great option is quartzite, which is unique because it does not require sealing and is particularly non-porous, meaning it's a fantastic splashback choice.
Granite Splashback
Granite natural stone is a particularly popular kitchen material. Part of the reason for this is because it's very resistant to splashes and stains. Another part of the reason is because it's available in a lot of colours, styles and prices. One last part of the reasoning is just that it simply oozes classiness.
If you're looking for a particular colour for your splashback, granite offers you a fantastic range of choice. Prefer black? Or want red, blue, grey/green, or something unique? Granite's got it all! The unique granular design of granite will give your splashback a complex and detailed aesthetic that is nothing short of spectacular. If you have or are planning on incorporating wood in your kitchen, granite is a very smart option as it complements wood-based styles as well.
Like the other natural stones, granite is a very durable material and will definitely make installing it as a splashback worth your money. Another reason why granite is a great splashback idea is because there are various price points for different options. So, whether money is no obstacle or you're working to a really tight budget granite will work for you.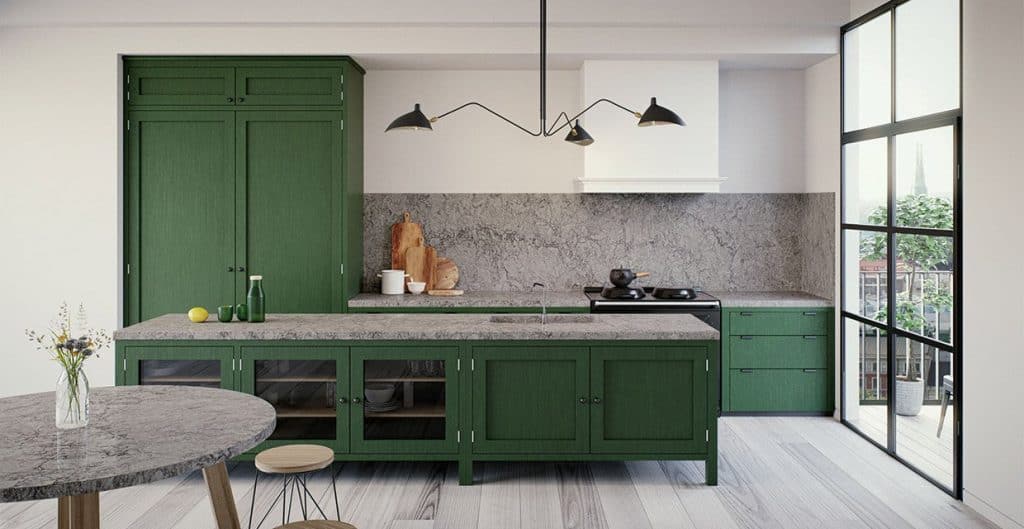 If you'd like to find more information about granite and the many different options and colours available, click here.
Engineered Stone Splashbacks
Distinct from natural stone, engineered stone does not occur naturally in the earth. Though primarily composed of quartz (one of the hardiest of natural stones) engineered stone is manufactured.
There are lots of reasons why engineered stone is a great splashback idea for your kitchen. Firstly, while just as resistant against stains and scratches as natural stone, engineered stone does not need to be sealed/resealed. It's completely non-porous meaning it makes for a very hygienic option for your kitchen.
Due to the fact that engineered stone is manufactured and not quarried, the style of your engineered stone can be more customisable to your preferences or existing kitchen.
Another huge plus to using engineered stone splashbacks is that it's a more affordable option when compared to most natural stones. If price is a concern for you, seriously consider engineered stone.
Let Us Help You With Your Splashback
Those are our 5 excellent stone splashback ideas for your kitchen. We know though that your journey to finding the right splashback is just beginning. You want to be able to rest assured you've chosen the right style and material to really make your investment worth it.
Why don't you get in touch and have a chat to the team at Euro Marble. We're here for you: Contact us today on (02) 8585 2999.